Setting up ambulance rooms as per factory act is one of the most important thing to have in any company that operates heavy machinery or employs more than 500 employees.
VMEDO is one of the premier institutions in India which builds ambulance rooms at workplaces along with that we also provide rental ambulances required for safety audits.
Call 9343180000 to setup ambulance room at your workplace
What is an ambulance room?
Ambulance room is a small health centre that's setup inside any corporate which is built to be specifically used for first aid and rest.
Who needs to setup ambulance room as per factory act 1948?
Corporates with more than 500 employees are required to have an ambulance room with all the requirement stated above.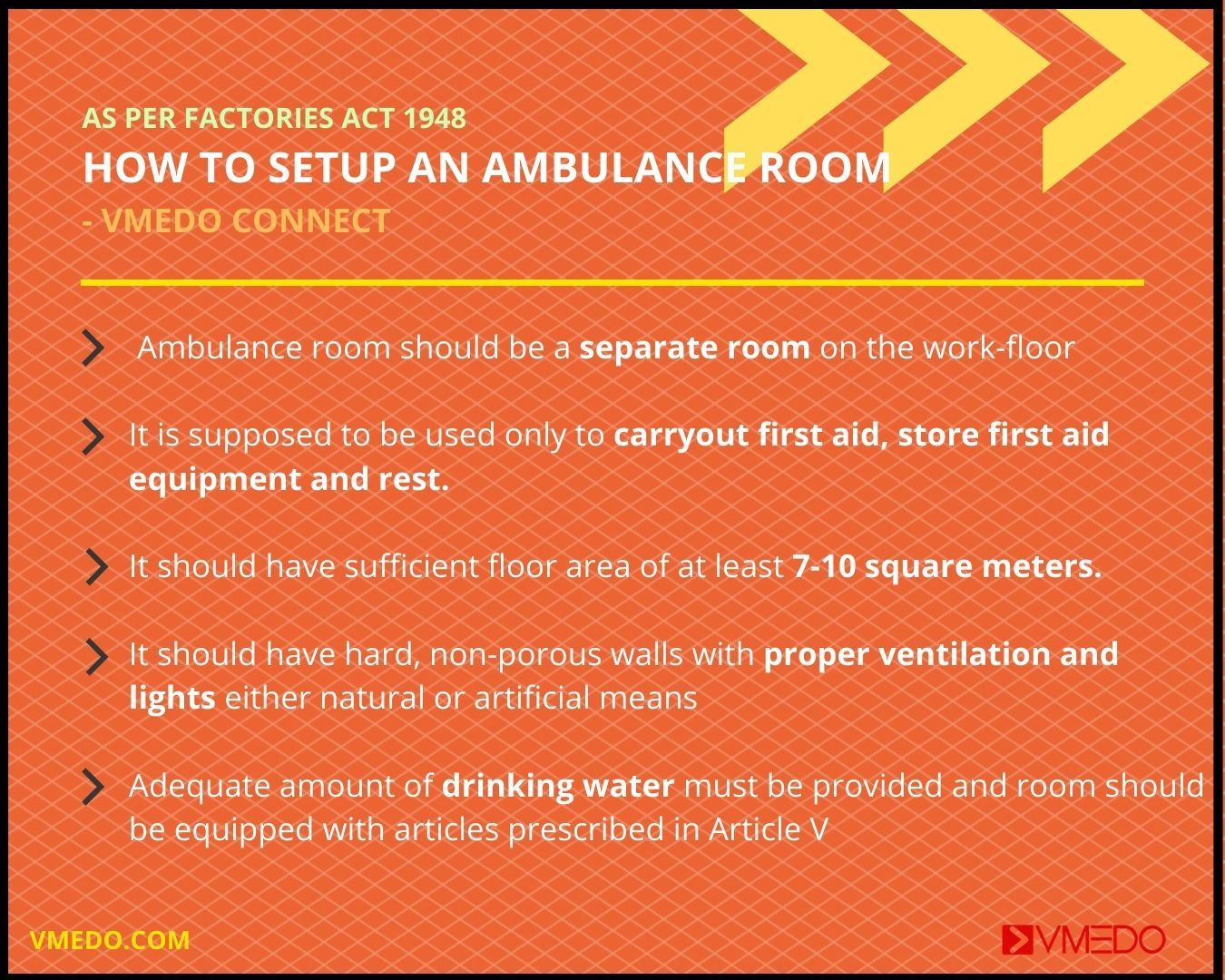 Personnel required for an ambulance room as per factory act 1948
An ambulance room requires a nurse who must be always available throughout the working days.
Ambulance room must be managed with the help of a medical professional and updated as per the doctor's advice. The first aid box contents must be managed by an internal team who's trained in first aid by an institution recognized by the state government.
Equipment required for ambulance room as per factory act 1948
A glazed sink-with hot and cold water always available.
A table with a smooth top at least 180/ centimetres x 105 centimetres.
Means for sterilising instruments.
A couch.
Two stretchers.
Two buckets or containers with close fitting lids.
Two rubber hot water bags.
A kettle and spirit stove or other suitable means of boiling water.
Twelve plain wooden splints 900 centimetres x 100 centimetres x 6 centimetres.
Twelve plain wooden splints 350 centimetres x 75 centimetres x 6 centimetres.
Six plain wooden splints 250 centimetres x 50 centimetres 12 centimetres.
Six woollen blankets.
Three pairs artery forceps.
One bottle of spiritus anemic aremations (120 millilitre).
Smelling salt (60 grams).
Two medium size sponges.
Six hand towels.
Four kidney trays.
Four cakes of toilet, preferably antiseptic soap.
Two glass tumblers and two wine glasses.
Two clinical thermometers.
Two tea spoons.
Two graduated (120 millilitre) measuring glasses.
Two minimum measuring glasses.
One wash bottle (1000 cubic centimetre) for washing eyes.
One bottle (one litre) carbolic lotion 1 in 20.
Three chairs.
One screen.
One electric hand torch.
Four first-aid boxes or cupboards stocked to the standards prescribed in the Schedule III.
An adequate supply of tetanus toxide.
Injections-morphia. pethidine. atrophine. adrenaline, coramine, novacaine (6 each).
Cramine liquid (60 millilitre).
Tablets – antihistaminic antispasmodic (25 each)
Syringes with needles-2 cubic centimetres, 5 cubic centimetres, 10 cubic centimetres and 500 cubic centimetres.
Three surgical scissors.
Two needle holders, big and small.
Suturing needles and materials.
Three dissecting forceps.
Three dressing forceps.
Three scalpels.
One stethoscope and a B.P. apparatus.
Rubber bandage – pressure bandage.
Oxygen cylinder with necessary attachments.
Atropine eye ointments.
I.V. Fluids and sets 10 numbers.
Suitable, foot operated covered, refuse containers.
Adequate number of sterilised. paired, latex hand gloves.
How to setup ambulance room as per factory act 1948?
To setup ambulance room anywhere in India you can contact VMEDO, we have built ambulance rooms for multiple corporates at as little cost as possible.
Call 9343180000 to get an estimate.