VMEDO in association with south-east police department Bengaluru has conducted first aid training for police to empower policemen to take the right decision and save a life during Medical emergency. VMEDO is on a mission to save a life by empowering people with knowledge, tools, and connections required during Medical emergency, with this program, we had an opportunity to train over 120 policemen in Basic first aid training and upskill them to save a life. We thank DCP south-east Bengaluru Isha pant and the entire team for the opportunity and support.
Today we have Govt Ems service, private ambulance service and Hospitals to respond during Medical emergency and save a life, However in many of the situation Policeman are the first one to arrive scene and take actions. People around the casualty would want police to take responsibility and save a life, policeman as a part of his responsibility manage to arrange appropriate help by calling an ambulance, clearing crowd and doing an inspection of the spot, But very few police can provide first aid at the spot. Sometimes lack of knowledge could delay the decision and could cause more damages to casualty. As the majority of the emergency police handle is critical, knowledge on basic first aid could make a difference between life and death. This is why a first aid training for police is required and VMEDO joined hands with southeast Bengaluru police to make it happen.
VMEDO's first aid training program for police was intended to upskill policemen with basic first aid knowledge to take quick decisions and provide immediate first aid for life-threatening situations till an advanced help arrives. Here is the brief highlight of the program content
Basics about Good samaritan law and legal responsibility of the police to support good samaritan during Emergency
Assessing the situation and assessing casualty for the seriousness
How to handle unconscious casualty breathing or not breathing
How to put casualty in the recovery position
When and how to perform CPR
How to handle bleeding, burns and fractures
Basic bandaging techniques, sling and splint application
First aid during other Medical conditions like heart attack, choking, stroke
How to shift/ move the casualty, how to handle spinal injury casualty
Common mistakes during emergency response and how to avoid it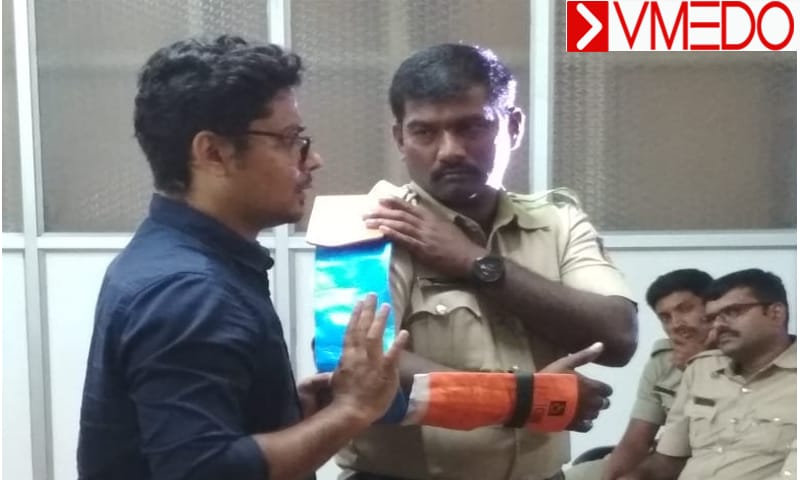 Now with this basic knowledge, first aid trained police can take a calculated decision during an emergency and handle casualty with better care. Although few policemen present have taken first aid training program on their self-interest, many were unaware of the majority of the training. All the police were extremely excited about the outcome of the program and they were happy to share their real-life incidents and how First aid knowledge would have helped them make a better decision.
VMEDO believes that with this program, we could save many lives indirectly through the first aid trained policeman. We would want to conduct these training programs to all the police people and make them emergency prepared. Not only for the police department we see a great need for this program for other public servants like bus drivers, army people, railway employees, traffic police.
VMEDO conducts these first aid training sessions at corporates, factories, schools, colleges, and communities. If you want to know more details about the program and would like to conduct such programs at your workplace please reach out to us by clicking the link below.
Keep yourself and your family emergency prepared with VMEDO app, Get first aid instructions during an emergency and get connected to the nearest ambulance, hospital, blood donor in a click of a button.
VMEDO is a Healthcare Technology start-up focused on solving Emergency Healthcare and Medical transportation problem In India.
Download VMEDO APP