Searching for different numbers during an emergency situation is a next to impossible task. Since ages India had different numbers for emergencies such as 100 for police, 101 for fire and so on.
In 2020 India has launched 112 as its own universal emergency number to overcome this problem. Now you can call 112 to get help during any emergency
Compared to countries like USA which has 911 as a universal emergency number we are already far behind, 112 is Indian version of 911 which we can use to access any emergency.
Remember calling any emergency number without reason is considered to be a criminal offense. Please dials these numbers carefully.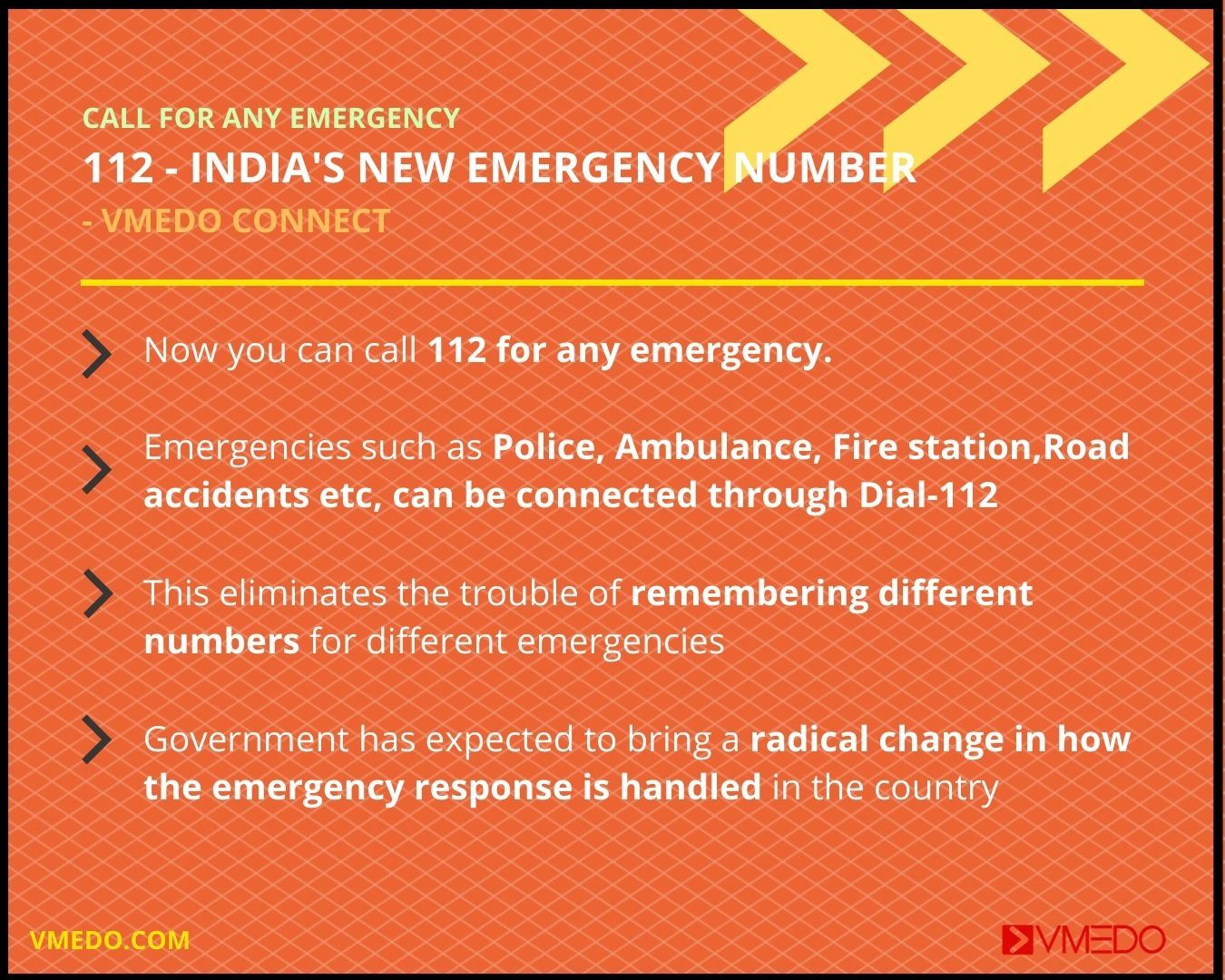 Why do we need 112 new emergency number.
Dial 112 is an urgent need in a country like ours, with a number of population still being uneducated and/or ignorant about emergency response. It's easier to remember one number rather than hundred for different purposes.
Centralizing the emergency response can lead to better response time due to the competence of specifically trained triage executives.
Why 112 is chosen to be new emergency number?
Number 112 is easy to use and not been used for any other emergencies before. Also 112 is considered to be the number of angels in numerology but the important aspect is the lack of confusion and easier dial .
112 New emergency app.
To make 112 more accessible Government of India has launched an app which can connect you with any emergency with a touch of a screen. Anyone with a smartphone can avail these services instantly.
What happens when we dial 112 New emergency number
When you call 112 your call will be received by a triage executive who's specially trained to hear your distress call. After receiving your call triage executive connects you with the nearest responders as per your requirement.
You can call them for any emergencies like, Police, Ambulance, Fire station, Domestic violence, Road accident, Highway response, senior abuse, child abuse etc…
Do I need network and currency to dial 112 New emergency number
No, you don't need any balance or network of your own sim card to be able to call 112. When you call this number you just need to be in an area where any network is available.
It's a completely Toll free number which you can call without any balance in your phone. There are certain brands which actually let you call 112 without even opening the lock.
112 is a number which you can call anywhere from India. Dial 112 is also called as Emergency response support system (ERSS). It came into act under Nirbhaya funds scheme to ensure safety especially for women.
Here's a video on how you can use 112.
Finally, 112 is a great initiative but similar to any emergency number in India, a very small portion of people are aware of it and even a smaller portion of the people call these numbers. We hope everyone uses 112 during emergencies.