Emergencies can be confusing and disorienting but with a bit of preparedness it can become less painful and ensure safety. To improve the safety and make the country sensitive to emergencies, Indian government has a number of helplines you can contact during emergencies.
If you want to book an ambulance right now please call our helpline 9343180000
Recently, India has launched a new emergency number "112" to help people reach out for all sorts of emergencies from the police to ambulance.
Calling emergency numbers without any cause or spamming them is a criminal offense as per Government of India. Please call them only when you have a cause.
Here's a list of most important emergency numbers which can assist you during emergencies.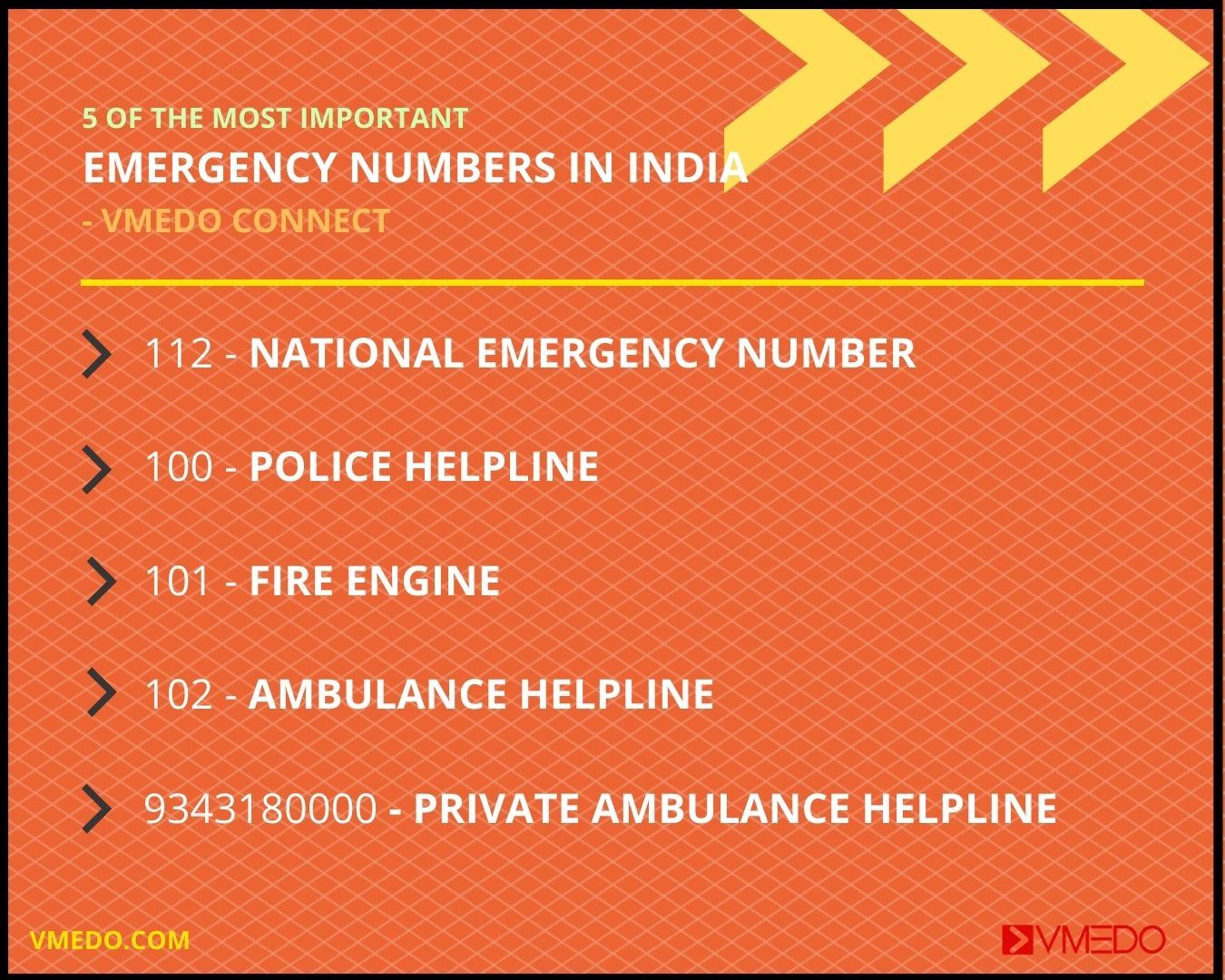 112 – National Emergency number
Emergency response support system (ERSS) is a Pan-India single number which came into act under the Nirbhaya funds scheme for ensuring safety especially for women and children.
Each state is required to setup its own Emergency response centers (ERC) through which you can access various emergencies such as police,fire etc.
Government of India has also launched an app to make the usage of number easier. You can download the app by clicking on the link below.
100 is a number that is dedicated to distress calls related to law and order issues. Till now 19 Crore calls are made 61 Lakh cases are resolved through Dial 100.
When you call 100 in India its attended by special police force who are trained to assist emergencies and nowadays its possible for police to track your location through your call.
Now you can also use 112 instead of 100 to contact police across India.
Fire safety is one of the most important aspects of EHS and Building safety. When you call 101 in India your call gets directed to the fire station nearer to you irrespective of your mobile network
How can I connect to emergency number even when there's no network?
As said earlier now you can use only 112 or 112 App to trigger fire stations nearer to you.
102 and 108 – Ambulance
102 is the official number you can call to get emergency ambulance across India. 108 is a new and advanced approach initiated by the Govt of India and GVK EMRI.
108 ambulance is used during purely for emergency situations and it is available in almost all the states of India excluding a few, but you can use 102 to get emergency ambulance across India.
9343180000 – Non- Emergency and Corpse Ambulance.
VMEDO is one of the organizations which provide assistance during Non-emergency situations such as patient transportation to and from hospitals and Inter facility transportation.
VMEDO Also provides ambulances for corpse transportation inside the city, between cities and through air travel. Other services such as Dead body freezer box and funeral services are also available at vmedo.
Other Important emergency numbers in India.
| | |
| --- | --- |
| Women helpline | 1091 |
| Women helpline- Domestic abuse | 181 |
| Senior citizen helpline | 1291 |
| Road accident emergency | 1073 |
| Road accident on highways | 1033 |
| Child abuse helpline | 1098 |
| LPG Leak helpline | 1906 |
| Railway accident helpline | 1072 |