"Safety saves sickness, sadness and suffering"                                                                                                                                                – Anonymous
Safety against emergencies is something we always overlook because the chances of getting into an accident are very rare. But when we get into one, consciously or unconsciously, we always suffer from the lack of it. Especially children are the ones who end up paying the hefty price for the safety shortcuts and General lack of Awareness. So we in VMEDO are trying to impart knowledge, provide tools and connections required to build a safe ecosystem in your environment.
Why School safety rules?
Children are the most likely candidates who get into accidents all the time, be it on a playground or inside the classroom. School safety is or should be one of the top priorities of the management. Having safety rules to tackle emergencies in schools not only makes your campus safe but it also teaches kids to be prepared and careful. Below is the list of important factors why schools should have safety rules in place
Importance of School safety rules
Children are the most likely candidates to get injured

Schools are the places where a lot of kids participate in sports such as running and football. Wherever sports and kids meet, accidents are bound to happen so it's a vital part of sports to be prepared for emergencies.

It teaches them a valuable lesson they carry throughout their entire life

Learning is not something that happens only through books. The major part of our skills come from our environment. When someone grows up in an environment where health and emergency school safety rules are vigorous they'll carry that over the lifetime.

It makes them a good Samaritan and builds personal value

Abraham Lincoln once said " The finest thing a man can do is save a life" If kids learn the importance of safety in their early ages they are bound to become valuable citizens in the future and hey it can be valuable content for your resume too.

Freedom to be Adventurous

Childhood is an age where you get to be as adventurous as possible but safety becomes a major concern for parents and teachers. When you inculcate the habit of safety awareness in kids you can be free of worry.
Now we do understand there is a huge importance for school safety rules for emergencies. Here are some of the guidelines you can follow to make your campus safe.
School safety rules for emergencies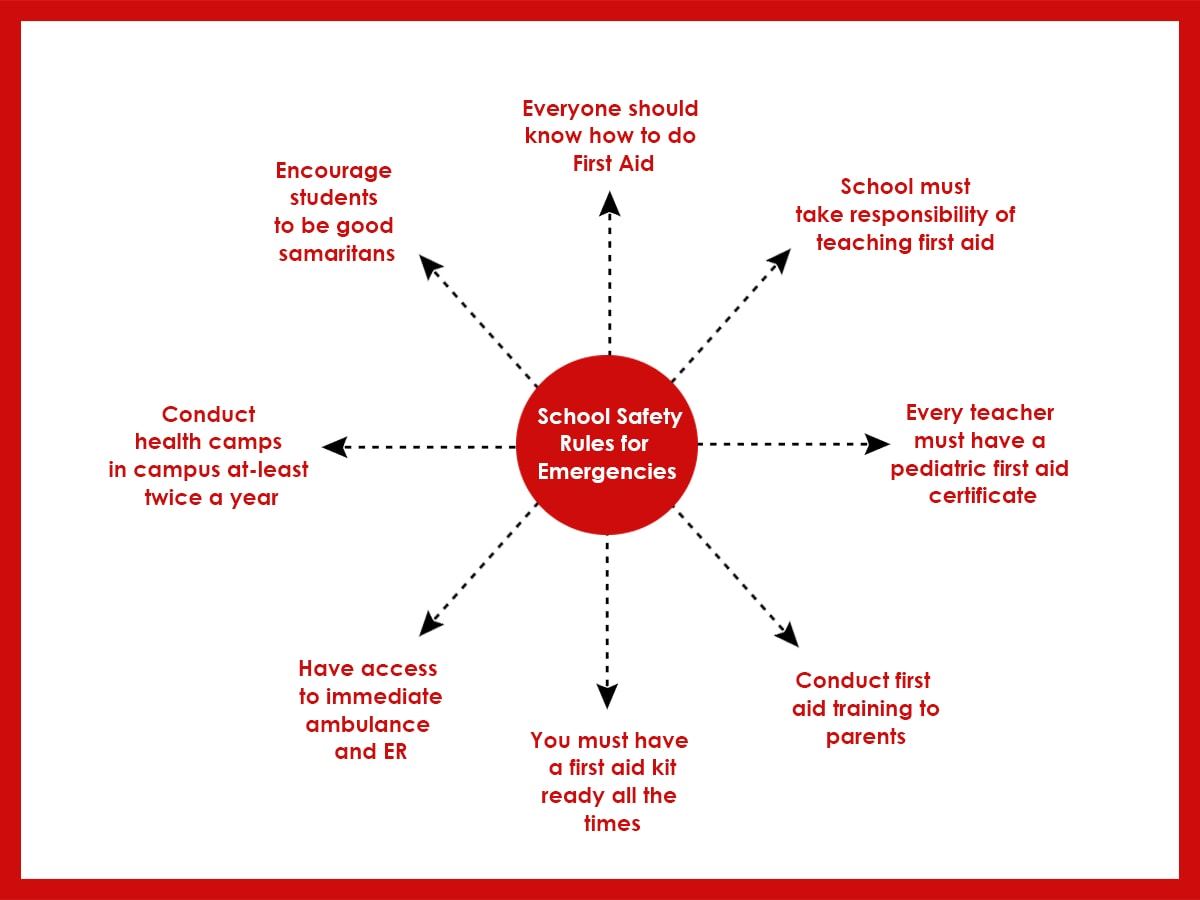 Everyone should know how to do First-aid                                                             First aid is one of the basic things everyone irrespective of their jobs or title should be aware of. It's a basic human skill. Especially in schools, a lot more importance should be given to implementing this in the lives of their students.

Schools must take responsibility for teaching first aid                                          The second most important thing is facilitating the first aid teachings at school, this should be a part of the curriculum and all the students must learn how to do first aid from industry specialists. Just like CBSE which has very strict guidelines regarding first-aid at its schools. Management should take action regarding this issue.
You should have a team in your school who can handle accident                          Schools should make a team of at least 20 people per 200 students, comprising of students and teachers and build a team of first responders ( emergency response team ) inside the campus who are capable of handling any emergency situations.
Every teacher must have a pediatric first aid certificate                                        Especially the people who work with little kids should be certified in pediatric first aid because children below 5 are very sensitive to injuries and those injuries can be a huge problem someday. Schools should make it mandatory for teachers applying for Montessori positions.
Should conduct First aid training to parents too                                                    Parents should be aware of the dangers that can occur at school or at home and should be able to act in the time of emergencies. You should consider child safety as the top priority and should arrange first aid workshops for parents as well
You must have a first aid kit ready at all times                                                        First aid kits are mandatory to have in every workplace and institutions by law. As per that we should always have sufficient materials which can be used in various emergency situations.
You should have access to immediate response such as ambulance and ER.              First aid can be a great tool to help people in the initial moments but schools should have a network of ambulances around their schools who can respond quickly to their calls. A proper ambulance network and quick response time can be a question of life or death.
They should try to create an Emergency response room dedicated to safety concerns
Every school should have a dedicated room to take care of their emergency situations and to keep valuable things such as first-aid kits and AEDs.
Should conduct healthcare checkups in the campus at least twice a year – Conducting comprehensive health checkups in school for students and even teachers can be a refreshing activity. Schools should strive to provide as much information about Safety and healthcare from doctors by arranging awareness sessions along with these checkups.
Should put up wall posters and Billboards to encourage students                         Schools should post their first aid programs and information regarding them on their notice boards periodically so that kids can become interested in them.
Encourage students to be good Samaritans                                                           The government of India passed the good Samaritan law to help people who respond to emergency situations and removed all the legal bindings on them. When the country is trying to act on improving its emergency infrastructure we believe we should always encourage and compliment it as much as we can. We should try to steer kids to become positive and helpful later on in their life.
We can understand that implementing these guidelines can seem to be a bit overwhelming but imagine having a partner who is capable of executing all of it in one day.
Yes, you guessed it we at VMEDO can help you implement everything. We have 2500+ Ambulances across the country and have trained around 5000+ Individuals in first-aid. Click this link below to have us as your emergency response partner which is absolutely free as well.
LET'S Make your campus a safe one.