An Ambulance stretcher is a medical transport device used in the extensive care of a seriously injured patient through types of Ambulance Stretchers. The design of the stretcher can save the paramedic vital time in a situation where every second counts.
Ambulance stretcher comes in various types of them, if you're looking for the best deal in Bangalore, Hyderabad, Chennai, Mumbai, Delhi, and other tier 2 cities then pat yourself on your back because you are at the right place.
Reach us at contact@vmedo.com or Call +91 7348852143
The purpose of an ambulance stretcher is to provide aid to the seriously injured patient with better quality equipment used in developing stretchers.
We are proud to have hired the required personnel for designing the ultimate stretcher and deliver high-quality ones within the given timeframe.
We VMEDO being in a healthcare ecosystem know perfectly what type of ambulance stretchers are to be dispatched according to the particular needs.
Basic types of Ambulance Stretcher
1. Auto Loader:
An ambulance stretcher or an Autoloader stretcher is commonly used in ambulances and it comes in various sizes to adapt to various sizes of ambulances too. Consists of one lower and upper frame, a lockable gas spring which makes the paramedics or the ambulance driver load and unload the stretcher into the ambulance and out of the ambulance with the patient easily.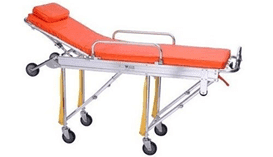 Specifications
· Foldable emergency stretcher
· Height adjustable
· Top upholstered and covered with washable plastic material
· Side railing with safety belts
· Knockdown construction
· High position: 1900 x 550 x 500mm
· Low position: 1900 x 600 x 260mm
2. Scoop Stretcher:
A device used specifically for moving injured people. It is Ideal for carrying casualties with possible spinal injuries. A scoop stretcher has a structure that can be split vertically into two parts, with shaped 'blades' towards the center which can be brought together underneath a patient. The two halves are placed separately on either side of the patient or then brought together until securing clips at the top and bottom both engage.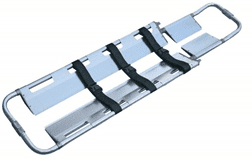 Specifications
· Aluminium scoop stretcher.
· Safety belt attached
· Size: Maximum: 2020 x 420 x 60mm.
· Minimum: 1680 x 420 x 60mm.
3. Foldable stretcher:
This stretcher used very often and it's very compact and easy to store and transport. It needs two people at each rear end to carry the injured. It comes in the single fold and double fold stretchers, based on the requirement and considering the storage space in the ambulance or anywhere.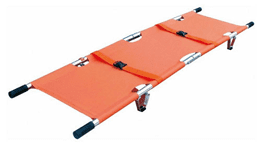 Specifications
· Folding Canvas Stretcher
· Canvas top fitted metallic poles and folding spreaders.
· Metallic pole ends fitted with nylon grip handles.
· With ties at head and leg end.
· Foldable in 2 (Lengthwise)
· Size: 1950 x 560 mm.
4. Wheelchair cum Ambulance stretcher:
It's just an Auto-loader ambulance stretcher convertible into a wheelchair with all the same functions and ease of loading and unloading into the ambulance.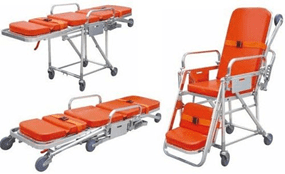 Specifications
· Foldable emergency stretcher
· Height adjustable
· Top is upholstered and covered with washable plastic material
· Side railings
· Can be converted into a chair
· High position: 1900 x 560 x 900mm
· Low position: 1900 x 560 x 220mm
5. Spinal board:
A spinal board is a patient-handling device used primarily in pre-hospital trauma care. It is designed to provide rigid support during the movement of a person with suspected spinal or limb injuries. They are most commonly used by ambulance staff, as well as lifeguards and ski patrollers. Historically, backboards were also used in an attempt to "improve the posture" of young people, especially girls.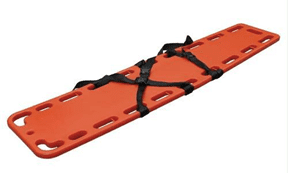 Specifications
· Material: High-density polyethylene (HDPE).
· X-ray translucent.
· Compatible with most head immobilizers.
· One-piece, hollow inside and circle handholds around.
· Spine Board weight 6 to 10 Kgs
· Approximately 150 kgs load capacity
Ambulance stretchers are a crucial part of life-saving equipment in hospitals and even at the ambulance.
The ability to save lives may plummet due to the lack of proper design, durability, function, and many other innumerable factors while they are using to transport the patients.
In the medical field, the role of a stretcher is so vital it has the ability to save lives and take lives at the same time.
To get your hands on any type of stretchers Contact us at contact@vmedo.com or Call +91 7348852143.
VMEDO is a Healthcare Technology start-up focused on solving Emergency Healthcare and Medical transportation problem In India.
Download VMEDO APP