Had you ever thought there will come a time when not wearing a mask in public will become illegal and you've to pay penalty. Masks have become an essential thing that we wear whenever we go out. This is one of the biggest social changes that we've seen in this century.
Is wearing facemask essential? Does it stop us from getting COVID-19?
Covid-19 is considered to spread through physical contact and droplets and masks are an effective way to stop the virus from spreading. According to the latest research WHO has announced that the virus can be airborne as well. so the answer is an astounding YES. wearing facemasks does help us from getting COVID-19.
Myths about Masks during COVID-19
Reusable Cloth Masks
Reusable cloth masks as the name suggest are masks that can be washed, reused, and made of cloth. Mostly cotton. Some of the masks have layers of material while some are basic pollution masks which are nothing but a piece of cloth with a strap on the side.
Reusable cloth masks are said to be enough for stopping COVID-19 from spreading since the virus majorly spreads through droplets and cloth masks efficiently stop and absorb the droplets when one sneezes or coughs.
How effective are reusable cloth masks
Effectiveness of the mask depends on the reason why we are buying them since we are buying masks to prevent the spread of coronavirus, reusable facemasks that have more than 3 layers of material are considered to be more than sufficient.
But, there are drawbacks to Clothmasks as well, Single layer cloth masks should be used just as pollution masks and shouldn't be used to protect against viruses and also they can't be considered to be useful in surgical settings or heavily infected areas.
Learn How to treat Coronavirus patients at Home
VMEDO 3Layer Cotton Facemask.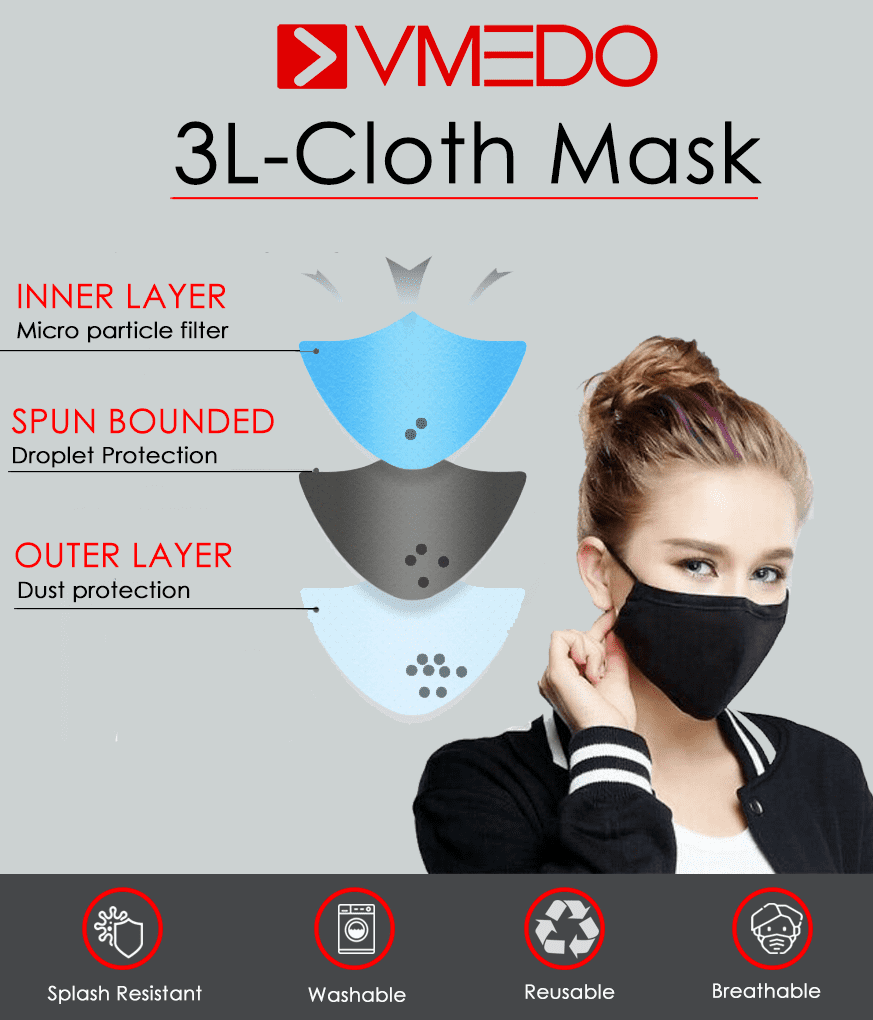 By considering the various factors mentioned above we at VMEDO have come up with our line of masks which are a perfect balance between Virus protection and Convenience. When we talk about the convenience it's about breathability and comfort of wearing the mask for long periods. It's not possible to wear an N95 mask for 2 hours straight due to the high restriction of airflow.
Our mask made of Cotton and has 3 layered protection. We've designed our mask in such a way that wearing the mask is extremely comfortable which is also a problem with a lot of masks in the market. Let's go over the benefits of buying our masks.
Why should you buy our mask?
1. It doesn't hurt your ear
We know how much masks affect our ears, we've designed the strap in such a way even if you wear this mask for 24 straight hours, you won't feel a thing
2. You can breathe in this mask
This is very ironic but true, due to thick clothing and improper design, masks have become a nuisance. We can assure you that you won't even notice the mask when you're breathing
3.Reusable and washable up to 30 times
This mask is made of cloth and can be easily rewashed, washes need to be gentle and routing. You can use one mask for 15 -20 days.
4. It protects
This is a 3 layer mask designed to distinctively to reduce splash, filter dust particles, and microbes.
5.

It's cost-efficient and free delivery
The same mask would cost you a minimum of 100 rs in a retail store while we are selling at 40% discount on Amazon, click the link below and get the product delivered to your doorstep in 2-3 days for free
How do I buy reusable facemask in India
We are currently on Amazon you can click the link below and buy our masks and get it delivered in 3-4 days across India.
We also sell masks at wholesale prices, to get a quote please call 7406000610 or Mail us at store@vmedo.com