If you are looking for Top 10 Oxygen Concentrators available in India, then you have come to the right place. To know more details about Oxygen Concentrators, call us at +917406000610 or mail us at store@vmedo.com
We have put together a list of top 10 Oxygen Concentrators available in India currently to help you find the best Oxygen Concentrators for your requirement. The list is not in any order of ranking.
| | | | |
| --- | --- | --- | --- |
| Manufacturer | Model | Product Brochure | Approx.Price (INR) |
| Nidek Nuvo | Nidek Nuvo Lite | View Brochure | ₹ 60,000 |
| | Nidek Nuvo 10 | View Brochure | ₹ 1,18,000 |
| | Nidek Nuvo Standard | View Brochure | ₹ 58,000 |
| Philips | Philips Everflo 5LPM | View Brochure | ₹ 59,000 |
| DeVilbiss | Devilbiss 5 LPM | View Brochure | ₹ 58,000 |
| | Devilbiss 10 LPM | View Brochure | ₹ 1,15,000 |
| Oxymed | Oxymed mini 5 LPM | View Brochure | ₹ 1,00,000 |
| Airsep | Airsep Intensity 10 | View Brochure | ₹ 1,80,000  |
| | Airsep Freestyle 5 | View Brochure | ₹ 2,38,000 |
| BPL | BPL Oxy 5 Neo | View Brochure | ₹ 65,000 |
| Home Medix | Home Medix HM Series | View Brochure | ₹ 40,000 |
| Dr Morepen | Dr Morepen OC-O2 | View Brochure | ₹ 50,000 |
| Owgels | Owgels OZ5-01GW0 | View Brochure | ₹ 1,10,00 |
| | Owgels OZ5-01PW0 | View Brochure | ₹ 55,000 |
| | Owgels OZ-5-01TW0 (5L) | View Brochure | ₹ 52,000 |
| Yuwell | Yuwell 9F-5AW | View Brochure | ₹ 60,000 |
List of Top Oxygen Concentrators available in India
Note: The Prices are tentative and may vary.
Before diving into the list of Oxygen Concentrators available in India, let us understand the meaning of the Oxygen Concentrators.
For decades medical purpose oxygen was supplied at compressed gaseous state in cylinders. The process of extraction, compression and filling of oxygen into the cylinders as well as its transportation to hospitals is time consuming and expensive.
When COVID-19 outbreak was at its peak many hospitals faced the scarcity of the medical oxygen supply. Due to increase in demand prices of the oxygen cylinders also increased and were unavailable to the patients who were under home quarantine.
That was the time an urgent solution was required to overcome this difficult situation of high demand for medical purpose oxygen. Fortunately oxygen concentrator systems were already available in the market.
Definition of Oxygen Concentrators
As the name implies, an oxygen concentrator is a machine which increases the proportion of breathable oxygen in a targeted small chamber by extracting it from the surrounding air, then the oxygen from the chamber will be supplied to the patient through air circuits with reference to the preset flow control parameters.
Functioning of Oxygen Concentrators
The surrounding air that we breathe comprises 78% of nitrogen, 20% of oxygen and 2% other gases. Oxygen concentrators use aluminosilicate compounds in the form of small beads to absorb nitrogen from the normal breathable air.
Most of the oxygen concentrators use a small compressor to fetch air into the machine and this air is let to pass through filters where the dust and carbon gases are absorbed. After the filter with the help of an automated valve the air is alternatively made to pass through either of two small chambers containing aluminosilicate beads where most of the nitrogen gas is absorbed by the beads. Post bead chamber oxygen concentrated air is collected into a small tank to be supplied through outlet hose to the patient circuit through humidifiers.
The flow of the oxygen is electromechanically controlled either by the control knobs, buttons or touchscreen controls provided on in the machine.
Types of Oxygen Concentrators available in the market
Oxygen concentrator systems are very affordable, reliable and user friendly machines. They are available in various types based on the maximum flow rate of the oxygen which they can provide. This flow capacity varies from 0.5 l/m to 10 l/m. Conventionally most of the doctors suggest going for either 5 l/m or 10 l/m oxygen concentrators.
Most of the manufacturers provide oxygen concentrators with inbuilt humidifier bottles in order to maintain moisture in the oxygen to be supplied, if the humidifier bottle/chamber is not provided with the machine then an external humidifier must be used with the patient circuit in line. Some machines have two channels of 5 l/m oxygen outlets in order to connect to two patients at a time.
Most of the oxygen concentrators are portable and few are table top type. The heavier oxygen concentrators are provided with the lockable trolley wheels in order to have flexible movements in and around the hospitals and homes.
Applications of oxygen concentrators
Oxygen concentrators for treating patients suffering from the conditions of hypoxia
Oxygen contractors can be used in hospitals, health camps, ambulances and homes
Oxygen concentrators can be used with external humidifiers, ventilators, CPAP and BiPAP machines
Oxygen concentrators are used for treating patients suffering from sleep apnea, asthma and lung cancer under physicians guidance
Oxygen concentrators also play a very important role in treatment of patients suffering from chronic obstructive pulmonary diseases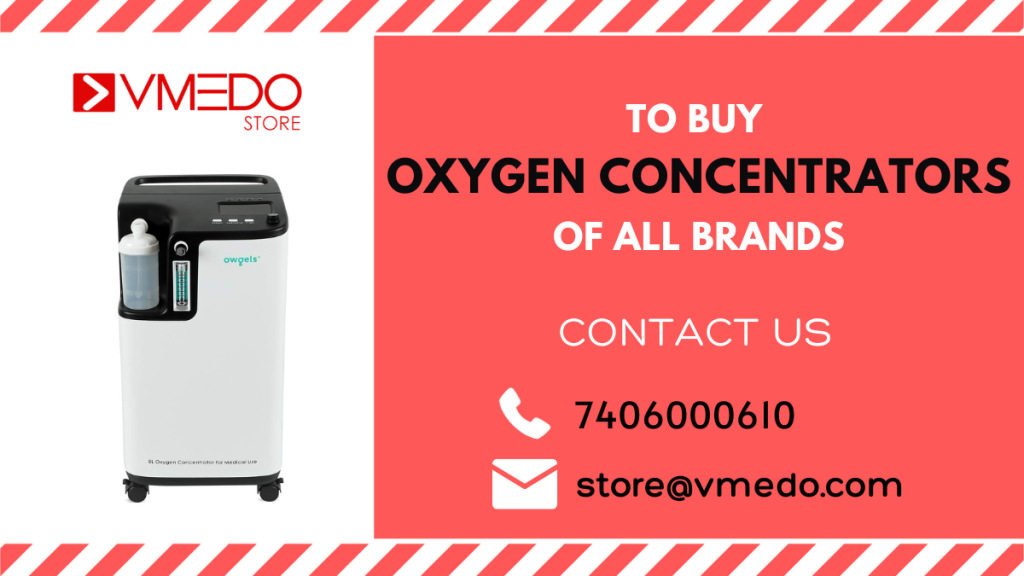 Let us look at the top 10 Oxygen Concentrators Available In India in detail. Please note that the defibrillators are not listed in any order of ranking.
1. Nidek Nuvo Oxygen Concentrator
Nidek Medical India specializes in respiratory care and intensive care devices. We stand by our commitment to providing high quality medical products backed by efficient service. Since its inception in 1999, Nidek Medical India has established a brand name and a country wide presence. With over a hundred active distributors throughout the country, Nidek is amongst the leading solutions providers in respiratory and intensive care areas in India.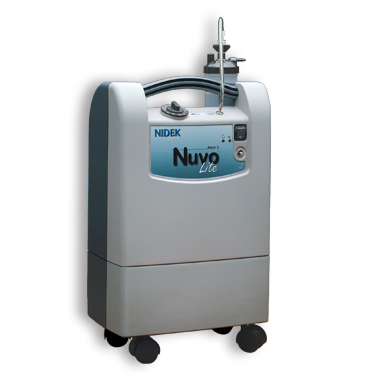 Specifications:
Lockable flow meter- convenient to set the flow rate with accuracy
Lightest 5 LPM oxygen concentrator
FDA approved
Oxygen Purity Indicator
Wide dealer network
Low power consumption technology
High quality lockable wheels
93%+ oxygen purity rate among all flow rate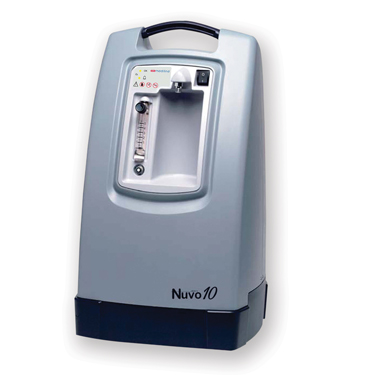 Specifications:
Weight: Nidek Nuvo 10 litres weighs 29.26 kg.
Sound: The machine emits sound at 58 dB.
Operating Altitude: The operating altitude of Nidek Nuvo 10 LPM is 5000 feet.
Outlet Pressure: The machine gives outlet pressure at 15 psi.
Power Consumption: Nidek Nuvo 10 LPM uses 600 watts of power.
Flow Meter: The device comes with a ball type flow meter which can be set between 2-10 LPM.
Alarms: Loss of power, system malfunction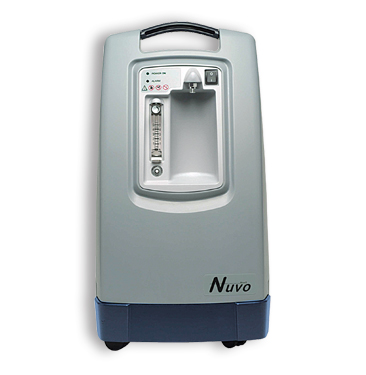 Specifications:
Quiet Operation – Sound Level less than 47 dBA
Lightweight – 22.7 Kgs – Easy to move
Slender & Sleek design with integrated handle
Easy access to filters & battery
Superior grade of molecular sieve
Patented maintenance free rotary poppet valve
Exclusive moisture reducing wick assembly
Reinforced base with recessed casters to guard against breakage
Spring mounted high efficiency Thomas compressor
Patented RPSA (Rapid Pressure Swing Absorption)
Simple design for ease of use & maintenance
2 .Philips
Philips leverages advanced technology and deep clinical and consumer insights to deliver integrated solutions. The company is leader in diagnostic imaging, image-guided therapy patient monitoring, and health informatics as well as in consumer health and home care.
Philips, is a Dutch multinational conglomerate corporation that was founded in Eindhoven in 1891. Since 1997, it has been mostly headquartered in Amsterdam, though the Benelux headquarters is still in Eindhoven. Philips was formerly one of the largest electronics companies in the world, but is currently focused on the area of health technology, having divested its other divisions.
Specifications:
It is one of the most popular oxygen concentrators in India, with a flow of up to 5 Litres Per Minute (LPM)
Philips Respironics Everflo is 34% lighter than the average weight of most oxygen concentrators in India. It weighs around 14kg only
Has Oxygen Purity Indicator(OPI) which lights up when the oxygen purity of the concentrator drops down below therapeutic levels
3. Devilbiss
DeVilbiss Healthcare is a world leader in the design, manufacture, and marketing of respiratory medical products that address the respiratory needs of patients in institutional and homecare settings. Our primary product lines include sleep therapy, pulmonary drug delivery, stationary and portable supplemental oxygen, homecare suction devices, and ENT Professional instruments.
DeVilbiss products are manufactured primarily in the United States and are distributed in more than 100 countries around the world. The company is currently headquartered in Somerset, PA in a 152,000-square-foot facility which houses manufacturing, distribution and warehouse space.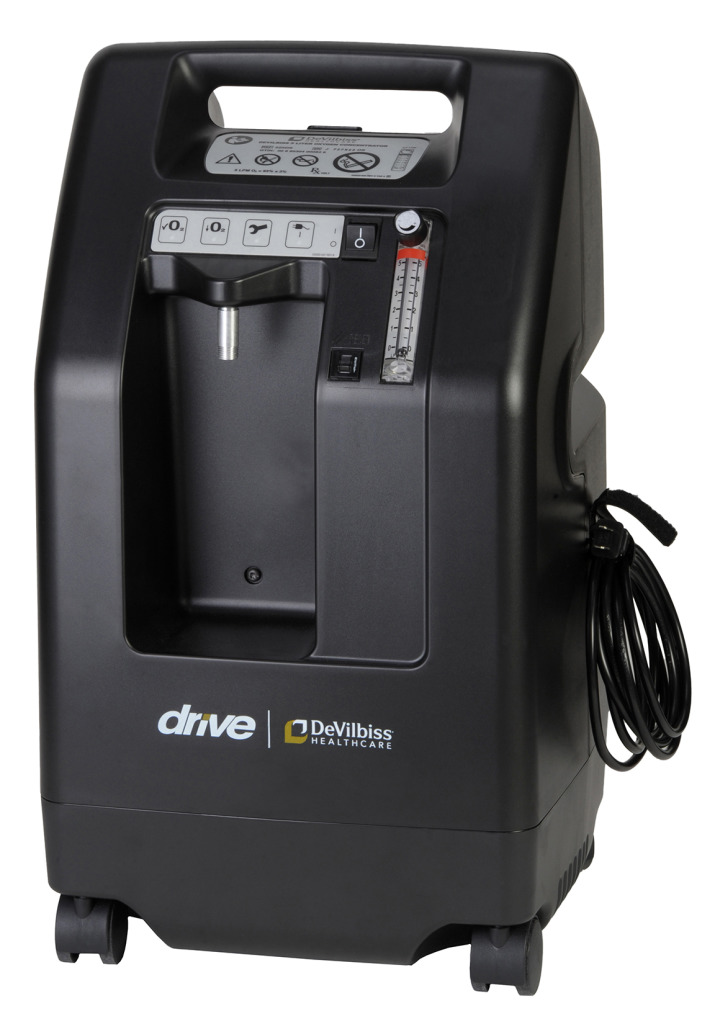 Specifications:
Uses Turn- down technology that helps to reduce electricity bill when device is set at lower flow rates
Highest operating altitude range range
Oxygen Purity Indicator
Excellent quality exterior
Good aesthetic appear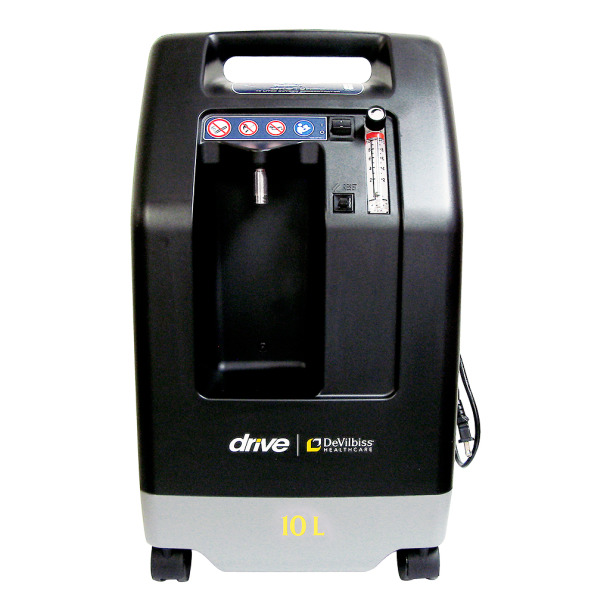 Specifications:
Compact and Lightweight: Devilbiss 10 LPM weighs just 19 kgs, making it the lightest and most compact oxygen concentrator in the 10 LPM range
Highest Outlet Pressure: The outlet pressure of Devilbiss 10 LPM is 20 psi, higher than any other oxygen concentrator
Power Consumption: The machine consumes 664 watts of power
Sound: This oxygen concentrator emits sound at 67 decibels
Operating Altitude: The operating altitude of Devilbiss 10 LPM is 5000 feet
Alarms: Loss of power and no flow alarm
4. Oxymed
Oxymed is India's finest Pre-eminent hospital for Non-surgical treatments exclusively recognised for its non-invasive treatment methods. With an encompassing mission to provide ethical care and virtuous treatment without surgery or any other invasive method, Oxymed has been striving to its best.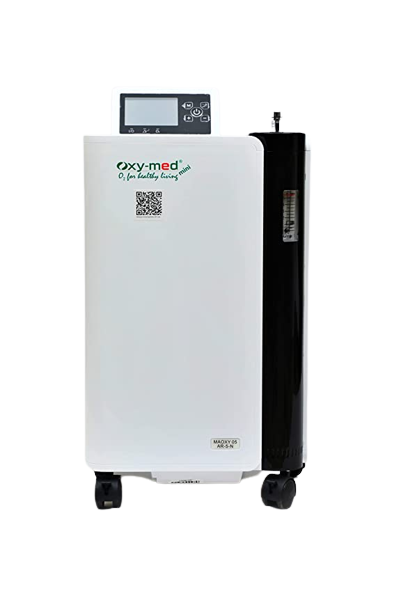 Specifications:
Most compact oxygen concentrator
Lightweight
Digital flow meter along with the ball type one- flow rate can be set and confirmed with high accuracy
Inbuilt oxygen purity analyzer
Oxymed mini has an in-built nebulizer
The machine comes with a digital as well as a rotating ball type flow meter
There are locks on its front wheels which prevent the machine from slipping on the smooth floor
Manufacturer of oxygen generating systems for medical and industrial applications. The company designs and manufactures stationary and portable oxygen concentrators for medical use, such as the ultra lightweight Focus, FreeStyle and VisionAire. It also provides air separation oxygen generation systems for industrial applications like Pressure Swing Adsorption (PSA) or Vacuum Pressure Swing Adsorption (VPSA) systems.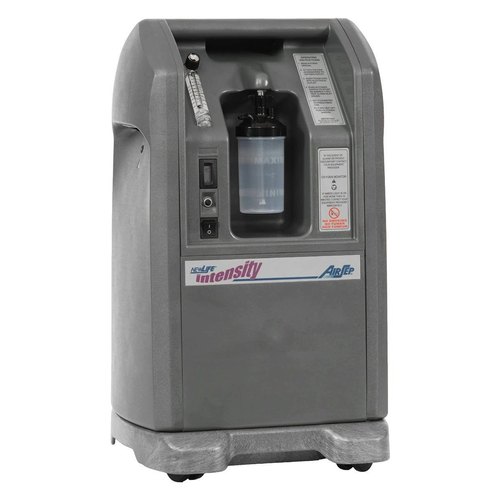 Specifications:
It is one of the oxygen concentrators with high and steady oxygen flow
This oxygen concentrator features the highest outlet pressure of 20psi in the industry
It features an Oxygen Percentage Indicator (OPI)
Airsep Intensity 10 oxygen concentrator makes an excellent option for ILD patients
The operation of the Airsep Intensity 10 oxygen concentrator is extremely silent amongst 10 LPM products. It is actually one of the most power-efficient oxygen concentrators in the 10 LPM category
Airsep Intensity 10 works well in places of up to 10,000 ft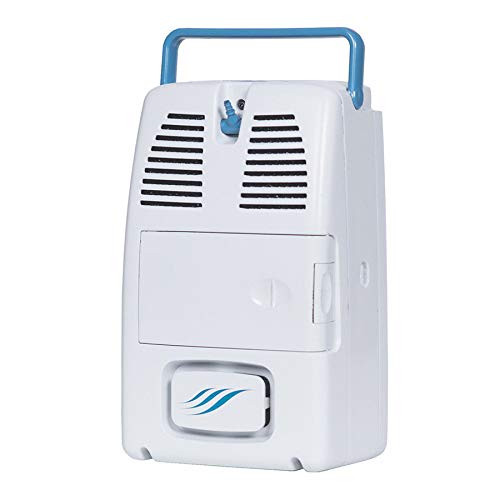 Specifications:
Airsep Freestyle is one of the first portable oxygen concentrators in India with 5-flow settings
The one-touch operation of Airsep Freestyle 5 makes it extremely easy to start and operate
Airsep Freestyle 5 is also an FAA-approved oxygen concentrator that you can carry onboard in flight
A battery backup of upto 7 hours on Airsep Freestyle 5 with an external power pack
6. BPL
British Physical Laboratories. BPL was launched in 1963 by T.P.G Nambiar in Kerala's Palakkad district and is currently Headquartered in Bengaluru, Karnataka.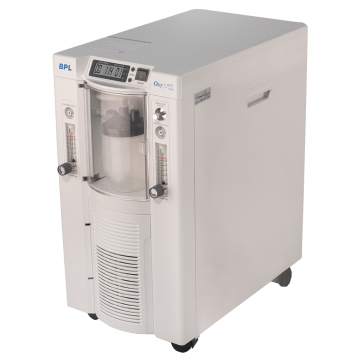 Specifications:
Oxy 5 Neo is a portable oxygen concentrator with oxygen purity of 93%
Has safety features like High pressure safety valve
Power failure alarm function & Fault self-detection system.
Flame retardant thermoplastic molded cabinet for strength and durability
It comes with built in nebulizer
LCD display showing usage hours
Visual and audible alarms
Timer function and auto shutdown
Two channels system of maximum 5 l/m available
Incorporated in the year 2004, Home Medix India Private Limited is a renowned name that is engaged in trading, importing and supply of Oxygen Concentrators, Compressor Nebulizers, Compact Compressor Nebulizers, Misty Neb, Air Beds, Water Beds, Pulse Oximeter and Latex Medical Examination Gloves. These instruments and equipment are appreciated for their accurate readings and optimum functionality.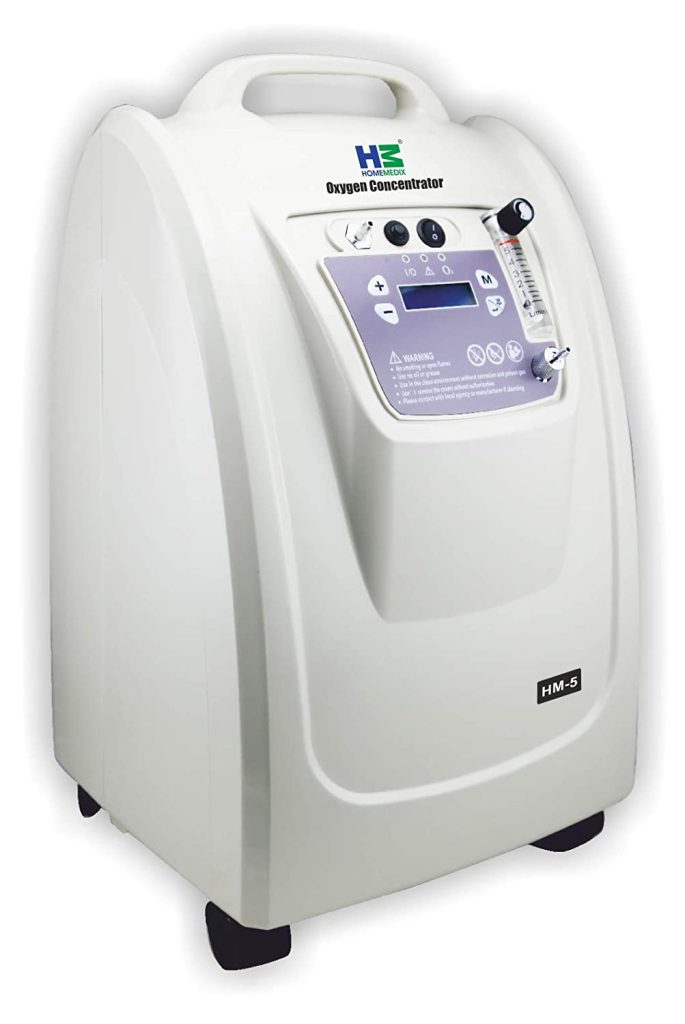 Specifications:
These Oxygen Concentrators are made from high quality of raw material which ensure durability at its user end
This range of Oxygen Concentrators are widely appreciated
These have inbuilt nebulizer functions
Low noise and Purity sensor technology
Timer function
Available in two types; HM5 maximum 5 l/m and HM10 maximum 10 litres/minute.
8. Dr Morepen
Dr Morepen Limited is a Non-govt company, incorporated on 11 Jul, 2001. It's a public unlisted company and is classified as a company limited by shares.
Dr Morepen Limited is majorly in Manufacturing (Metals & Chemicals, and products thereof) business from last 21 years and currently, company operations are active. Current board members & directors are BHUPENDER RAJ WADHWA, SANJAY SURI, AJAY KUMAR SHARMA, AJAY KUMAR SHARMA, SUKHCHARAN SINGH and DEEPAK KUMAR DAS.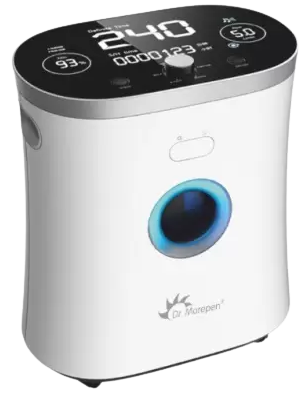 Specifications:
OC-O2 gives oxygen with 93% of concentration
Low noise with oxygen purity indicator
External humidifier available with the machine
LCD display and best suited for home
Available only with maximum 5 l/m flow rate
9. Owgels
Owgels is one of the leading brand in China for oxygen concentrators, and ISO13485 qualified manufacturer specialized in R&D, Production and Marketing of medical oxygen therapy devices since 2012, located in Guangzhou, China, now has 400+ employees, exports to 50+ countries, with yearly sales turnover 100+ Million USD.
A. OZ5-01GW0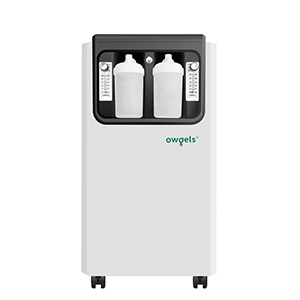 Specifications:
OZ5 provides oxygen with 93.5% of concentration
Low noise with humidity upto 80%
Two oxygen outlets
Available only with maximum 10 l/m flow rate
External humidifiers available with the machine
Small LCD screen display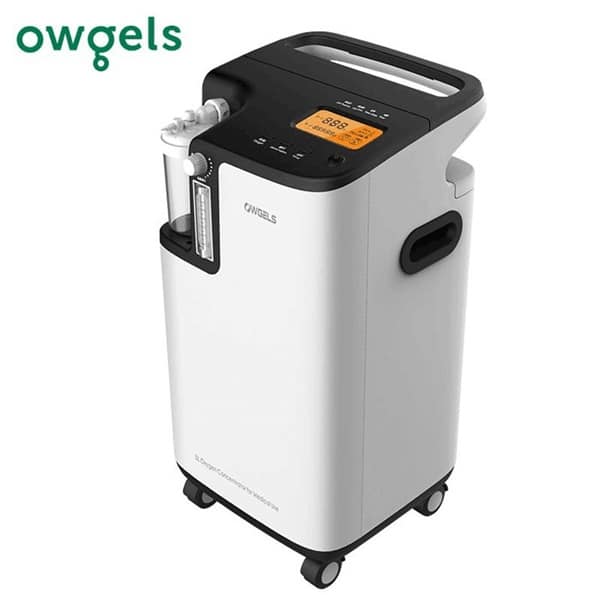 Specifications:
PSA(Pressure Swing Absorption) Methodology
93%±3% Purity Oxygen at 5 LPM
Built-in Nebulizer
Oxygen monitor
Oxygen alarm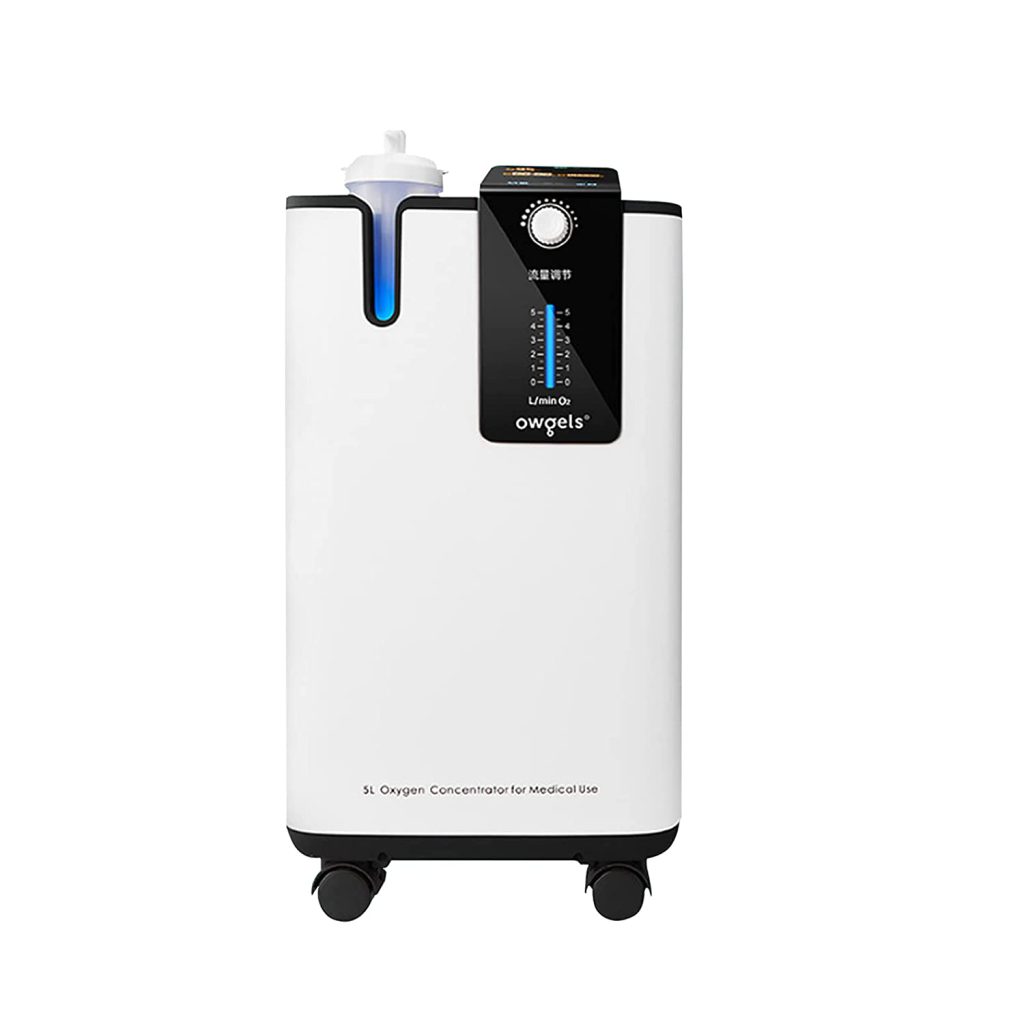 Specifications:
PSA(Pressure Swing Absorption) Methodology
93%±3% Purity Oxygen at 5 LPM
Built-in Nebulizer
Large LCD intelligent display
Update: lighter, smaller
Oxygen monitor
Oxygen alarm
10. Yuwell
Yuwell-Jiangsu Yuyue medical equipment & supply Co., Ltd. has grown very fast since it was founded. In April 2008, the company listed in Shenzhen Stock Exchange. Then the company increased input in technological innovation and development of products with the support of the capital market. What's more, Yuwell grew with amazing speed by merger and acquisition.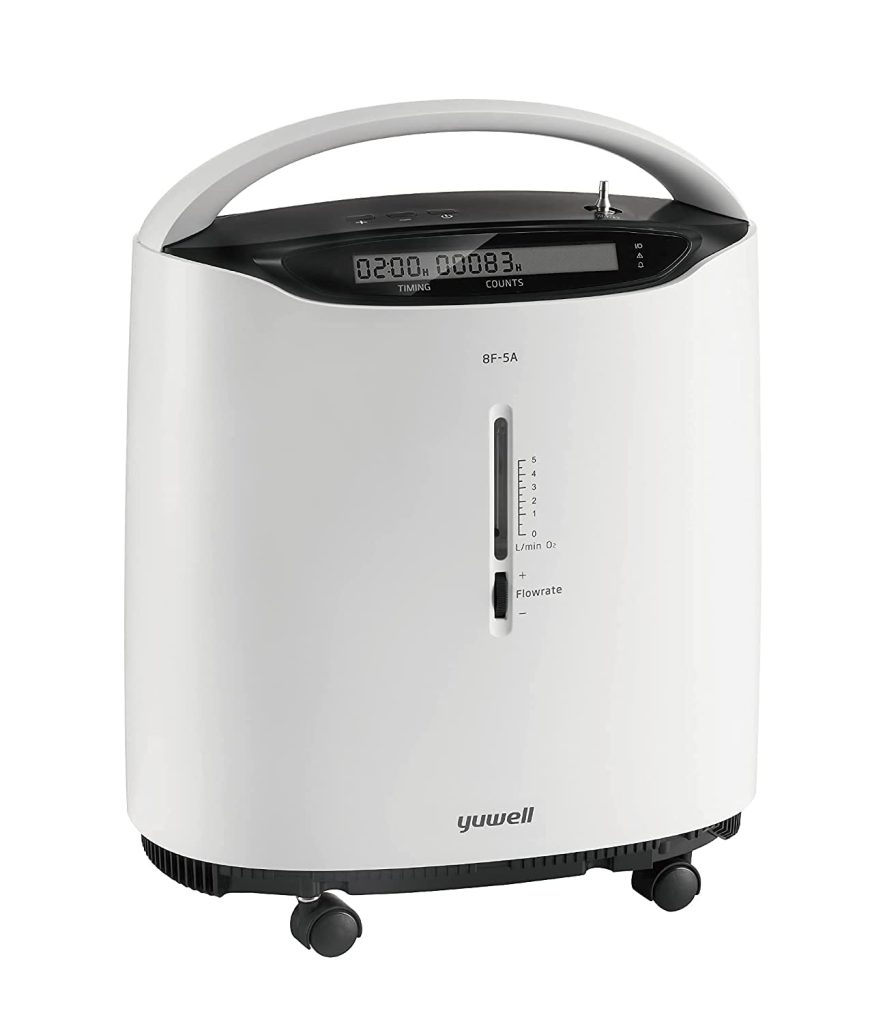 Specifications:
Built-in Pulse Oximeter
Back-lit LCD screen
Back-lit flow meter
Remote control
Nebulizer air outlet
Top tray for storage of accessories
Power failure alarm
Low oxygen alarm
Pressure alarm
Compressor failure alarm
Where to buy an Oxygen Concentrator in India at the best price? Who is the Oxygen Concentrator supplier in India?
If you are looking for a reliable supplier of Oxygen Concentrators in India who you can trust throughout your buying process for Oxygen concentrators and Oxygen Concentrator accessories of all oxygen concentrators manufacturers and brands in India, look no other way and contact VMEDO Store now. We are currently serving across all cities of India and mainly in Karnataka around the below listed cities.
Bengaluru
Delhi
Mumbai
Pune
Chennai
Hyderabad
Tumkur
Shivamogga (Shimoga)
Davangere
Mysuru (Mysore)
Mandya
Madikeri
Chamarajanagar
Hubballi
Gadag
Haveri
Uttara Kannada
Contact us at +917406000610 or mail us at store@vmedo.com
VMEDO is an Emergency Healthcare Ecosystem where we are working towards saving more lives by assisting people to book Ambulances, medical equipment, and healthcare training programs on one single platform. We pride ourselves in being one of India's largest Ambulance networks and have helped over 50,000 people in emergencies. We have empowered more than 10,000 Professionals with First Aid Skills. Through VMEDO Store, we have supplied over 50,000+ medical equipment and surgical supplies across India.