If you are looking for Ventilator Manufacturers, Brands and Suppliers in India, then you have come to the right place. Before diving into the list of manufacturers, brands, suppliers and the cost, let us understand the meaning of Ventilators. To know more details, call us at +917406000610 or mail us at store@vmedo.com
What Is a Ventilator?
A Ventilator is a device that supports or recreates the process of breathing by pumping air into the lungs. Sometimes, people refer to it as a vent or breathing machine.
There are different types of ventilator, and each provides varying levels of support. The type a doctor uses will depend on the patient's condition.
Ventilators play an important role in saving lives, in hospitals and ambulances. People who require long-term ventilation can also use them at home.
The Different types
Based on application of airflow pressure, Ventilators are classified into two types:
Compressor-based Ventilators
Turbine-based Ventilators
Read more on ventilators:
Which is better between Turbine Based and Compressor Based Ventilators?
According to research conducted by doctors and ventilator technicians at a university hospital, turbine-based ventilators' performance is better than compressor-based ones in conventional circumstances, but compressor-based ones perform better at the time of higher air pressure and volume needs.
Based on ways a person can receive ventilator support, Ventilators are classified as:
Face mask ventilators
Mechanical ventilators
Manual resuscitator bags
Tracheostomy ventilators
Face mask ventilator
A face mask ventilator is a non-invasive method of supporting a person's breathing and oxygen levels. To use one, a person wears a mask that fits over the nose and mouth while air blows into their airways and lungs.
Mechanical ventilator
Mechanical ventilators are machines that take over the breathing process entirely. Doctors use these when a person cannot breathe on their own due to critical illness or is undergoing surgery.
Mechanical ventilators work via a tube in a person's throat, pumping air into the lungs and transporting carbon dioxide away.
People with COVID-19 may need a mechanical ventilator if they are critically ill.
Manual resuscitator bags
Manual resuscitator bags allow people to control the airflow of their ventilator with their hands. These devices consist of an empty bag, or "bladder," that a person squeezes to pump air into the lungs.
A person can attach one of these devices to a face mask ventilator, or, if they are intubated, a doctor can attach one to the tube in their throat.
This can be used as a temporary solution if a person on a mechanical ventilator needs to stop using it. For example, if there is a power outage, a person can use a manual resuscitator bag while waiting for the power to come back on.
Tracheostomy ventilator
Tracheostomy is a procedure where a doctor creates an opening in the windpipe and inserts a tube, which allows air to flow in and out. This enables the patient to breathe without using their nose or mouth.
People may require tracheostomies if they need mechanical ventilation for an extended period of time and need more time for rehabilitation.
Others may require tracheostomies long term if they have conditions such as chronic lung disease or a neuromuscular disorder that weakens the breathing muscles. Some individuals can manage their own tracheostomy at home.
There are three modes of ventilation:
Assist Control (A/C)
Breaths delivered by the ventilator control either volume or pressure.
Ventilator delivers a preset volume of air every time
Breath can be initiated by the patient or the ventilator.
Spontaneous (SPONT)
Patient-initiated and sustained breathing
Ventilator controls oxygen amount and pressure
Delivers flow and volume required to help the patient breathe
Patient can breathe at a continuous positive airway pressure
Synchronised Intermittent Mandatory Ventilation (SIMV)
Combination of set patient or ventilator-initiated breaths delivered by the ventilator that controls volume or pressure, and the patient's own spontaneous breaths.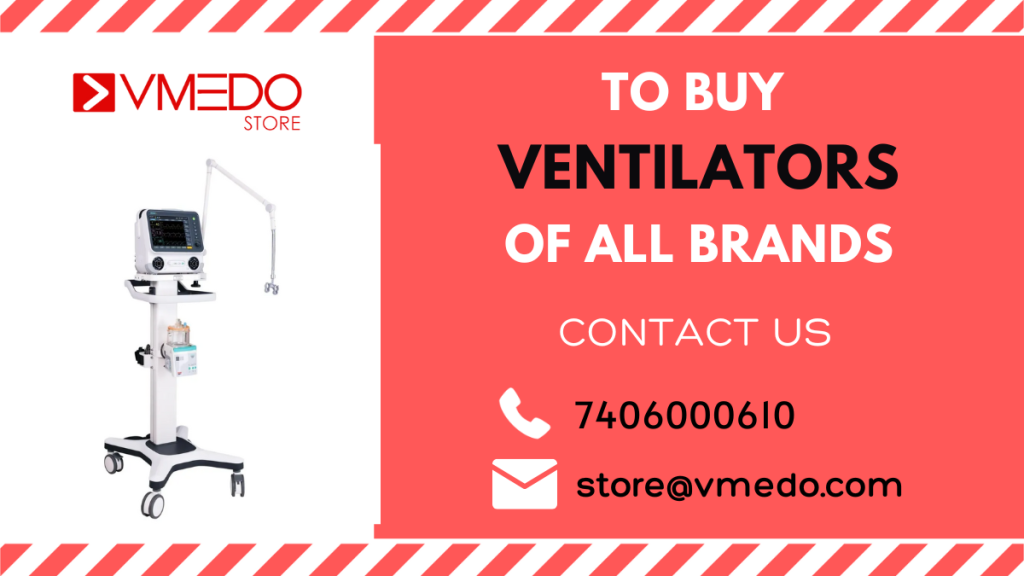 List of Ventilator Manufacturers available in India
Note: There are even more manufacturers available in the market which we might have not listed here.
What you should know before buying a Ventilator?
You need to understand the technical and conditional aspects before buying a ventilator.
Here is a list of the technical aspects you need to ensure:
Ventilator Technical Checklist
Perform a visual inspection for any signs of damage
Sanitise the units
Run a performance check
Check air pressure and O2 supply
Check the expiratory valve to make sure there are no leaks
Verify that all alarms are working
Ventilator Conditional Checklist
Warranty on the unit as a whole and individual parts
Service Support / Free Services and Availability of Service in your location
Delivery and Installation Assistance
Availability of Standby
Cost of Ventilator Available in India
The cost of a Ventilator depends on the manufacturer, brand, supplier and type.
The cost of accessories are brand specific. The list of accessories are:
Ventilator Accessories
Non-invasive Ventilation Masks
Breathing Circuits
Patient Filters
Accessory Set
Where to buy a Ventilator in India at the best price? Who is the Ventilator Supplier in India?
If you are looking for a reliable supplier of Ventilators in India who you can trust throughout your buying process of all manufacturers and brands in India, look no other way and contact VMEDO Store now.
Buy Medical Equipment & Surgical at Best Price
We are currently serving across all cities of India and mainly in Karnataka around the below listed cities.
Delhi
Mumbai
Pune
Chennai
Hyderabad
Tumkur
Davangere
Mandya
Madikeri
Chamarajanagar
Gadag
Haveri
Uttara Kannada
Contact us +917406000610 or mail us at store@vmedo.com
VMEDO is an Emergency Healthcare Ecosystem where we are working towards saving more lives by assisting people to book Ambulances, medical equipment, and healthcare training programs on one single platform. We pride ourselves in being one of India's largest Ambulance networks and have helped over 50,000 people in emergencies. We have empowered more than 10,000 Professionals with First Aid Skills. Through VMEDO Store, we have supplied over 50,000+ medical equipment and surgical supplies across India.