ECG or electrocardiogram is medical equipment that helps to detect any abnormalities of the heart by measuring the electrical activities which cause the cardiac muscles to contract. The device that records the sinoatrial rhythm of the heart of the patient in a well-scaled graph is called an Electrocardiogram. If you are looking for Top 10 ECG Machines Available at Best Price In India, then you have come to the right place. To know more details about ECG Machines, call us at +917406000610 or mail us at store@vmedo.com.
Know more about ECG Machines:
We have put together a list of top 10 ECG Machines, Available at Best Price in India currently to help you find the best ECG Machines for your requirement. The list is not in any order of ranking.
Let us look at the top 10 ECG Machines Available In India
| | | | |
| --- | --- | --- | --- |
| Manufacturer | Model | Product Brochure | Approx. Price(INR) |
| BPL | BPL Cardiart 6108 T | View Brochure | ₹ 26,000 |
| | BPL Cardiart 6208 View | View Brochure | ₹ 26,000 |
| | BPL Cardiart Genx3 | View Brochure | ₹ 60,000 |
| | BPL Cardiart 9108 D | View Brochure | ₹ 98,000 |
| Comen | Comen CM 1200A | View Brochure | ₹ 85,000 |
| | Comen CM 300 | View Brochure | ₹ 52,000 |
| Contec | Contec ECG 300G | View Brochure | ₹ 32,900 |
| | Contec ECG 600G | View Brochure | ₹ 36,000 |
| | Contec ECG 1200G | View Brochure | ₹ 45,738 |
| Tricog | Tricog VCardia | View Brochure | ₹ 39,200 |
| GE | GE MAC 400 | View Brochure | ₹ 40,000 |
| | GE MAC 600 | View Brochure | ₹ 83,500 |
| | GE MAC 800 | View Brochure | ₹ 1,30,000 |
| | GE MAC 1200 | View Brochure | ₹ 1,41,942 |
| | GE MAC 2000 | View Brochure | ₹ 1,40,000 |
| Philips | PageWriter TC 10 | View Brochure | ₹ 1,26,000 |
| | PageWriter TC 20 | View Brochure | ₹ 1,50,000 |
| | PageWriter TC 30 | View Brochure | ₹ 1,65,000 |
| | PageWriter TC 50 | View Brochure | ₹ 2,20,000 |
| Schiller | Cardiovit AT-1 | View Brochure | ₹ 85,000 |
| | Cardiovit AT-2 Plus | View Brochure | ₹ 1,05,000 |
| | Cardiovit AT-102 G2 | View Brochure | ₹ 1,56,800 |
| | Cardiovit CS-104 | View Brochure | ₹ 1,70,000 |
| | Cardiovit AT-180 | View brochure | ₹ 1.90,000 |
| Nihon Kohden | Cardiofax S – 1250 | View Brochure | ₹ 49,615 |
| | Cardiofax M – 2350 | View Brochure | ₹ 30,000 |
| | Cardiofax C – 3150 | View Brochure | ₹ 90,000 |
| | Cardiofax V – 2450 | View Brochure | ₹ 1,00,000 |
| | Cardiofax G – 2550 | View Brochure | ₹ 1,20,000 |
| Mindray | BeneHeart R12 | View Brochure | ₹ 1,15,000 |
| | BeneHeart R3 | View Brochure | ₹ 58,000 |
| Skanray | Cardiskan | View Brochure | ₹ 45,000 |
| | Cardiskan Mini | View Brochure | ₹ 50,000 |
| | Orion Plus | View Brochure | ₹ 55,000 |
List of Top 10 ECG Machines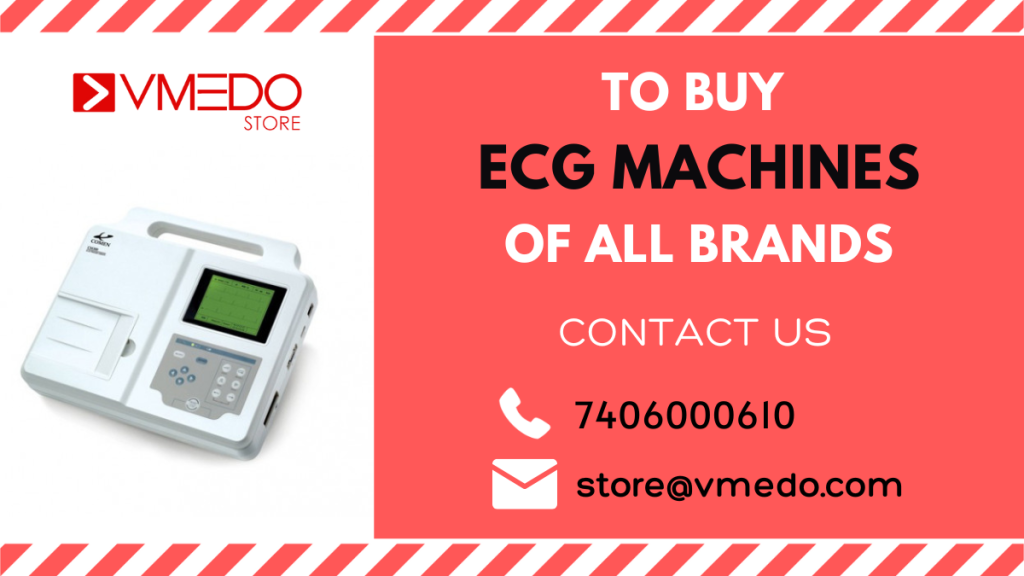 Note: The Prices are tentative and may vary.
Let us look at the top 10 ECG Machines Available in India in detail.
Please note that the defibrillators are not listed in any order of ranking.
1. BPL
British Physical Laboratories (BPL) was launched in 1963 by T.P.G Nambiar in Kerala's Palakkad district and is currently Headquartered in Bengaluru, Karnataka.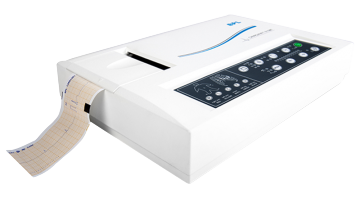 Specifications:
Single Channel ECG recording
Last memorized ECG recording
Automatic and Manual recording modes
Power supply: Mains and battery operation
Built in rechargeable battery
Thermal printing on 50 mm paper
Compact design, light weight and portable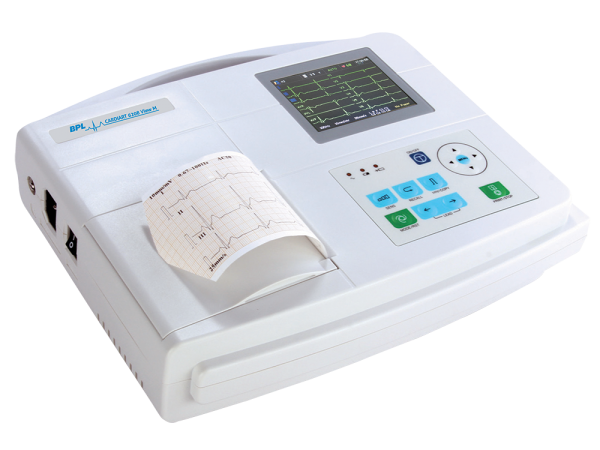 Specifications:
Three-channel ECG recording
3.5 inch colour LCD screen
Automatic measurement and interpretation
≥12-bit A/D converter, 0.05 – 150 Hz bandwidth, 1000 Hz sampling frequency
Internal storage for up to 500 ECGs that can be enlarged by USB
High performance Li-ion rechargeable battery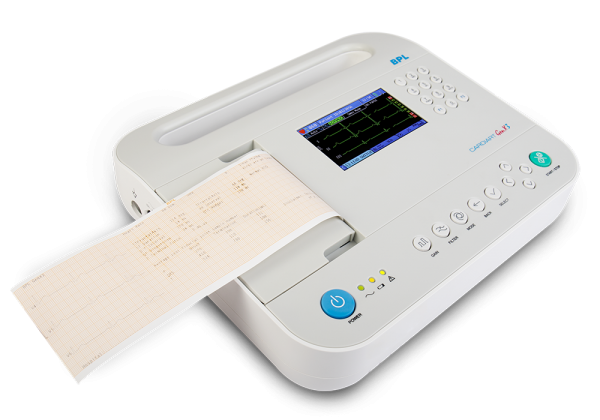 Specifications:
Three Channel ECG Recording with trace darkness control
4.3-inch colour LCD screen
Glasgow ECG interpretation algorithm
12-bit A/D converter, 0.05 – 150 Hz bandwidth, 1000Hz sampling frequency
Alphanumeric keypad with soft silicone keys
Full disclosure view of ECG analysis on display
Internal storage 250 ECGs and can be enlarged by USB
Li-ion rechargeable battery – 250 ECG's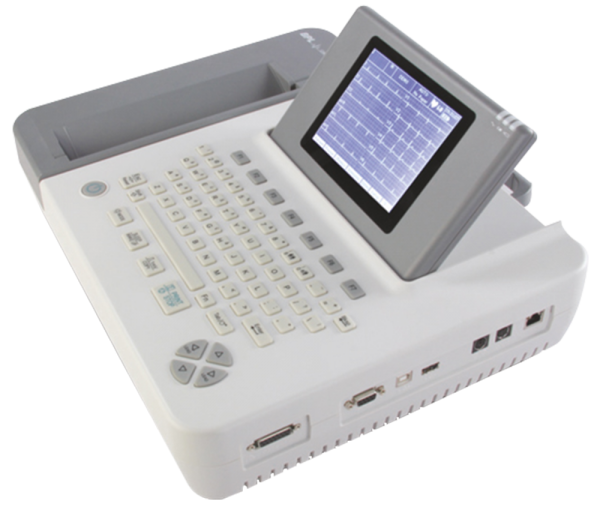 Specifications:
Simultaneous 12 Channel ECG Recording with 12 lead simultaneous acquisition
5.7- inch High Resolution Foldable Screen
QWERTY Alphanumeric keyboard
Built-in ECG Parameters measurements and Interpretation
Print Mode: Pre-Sample/Real-Time Sample/Arrhythmia Triggered Sample
Upto 100 ECGs in Internal Memory
Supports External Archiving: USB Drive for virtually unlimited ECG Data Storage
Built-in Rechargeable Lithium Ion Battery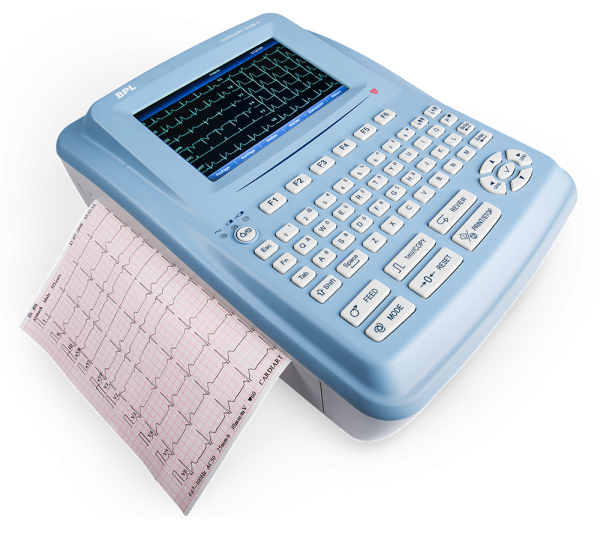 Specifications:
12-channel ECG recording
7-inch high resolution colour LCD with touch screen option
Glasgow ECG Interpretation algorithm
24-bit A/D converter, 0.01 – 300 Hz bandwidth, 16000 Hz sampling frequency
High performance Li-ion rechargeable battery
Report formats: PDF and optional SCP/FDA-XML/DICOM data export
Connectivity: FTP, supports barcode scanner & USB printer, optional Wi-Fi
2. Comen
Comen, founded in 2002 in Shenzhen, China, is a medical device manufacturer with R&D capacity serving the needs of medical professionals. Adhering to the end-user-focus thinking, Comen is committed to providing the world's most comprehensive monitoring product line, the world's first NICU solution, the world's first-class OR & ICU solution leading by the concept of "Specialized Product, Specialized Usage". Comen joins hands with the famous experts from China's top Grade-A tertiary hospitals to achieve cooperation among hospitals, research institutes and enterprises, turning innovative ideas into products in line with users expectations. Up to now, 40% of Comen's nearly 600 patents come from cooperation with hospital experts.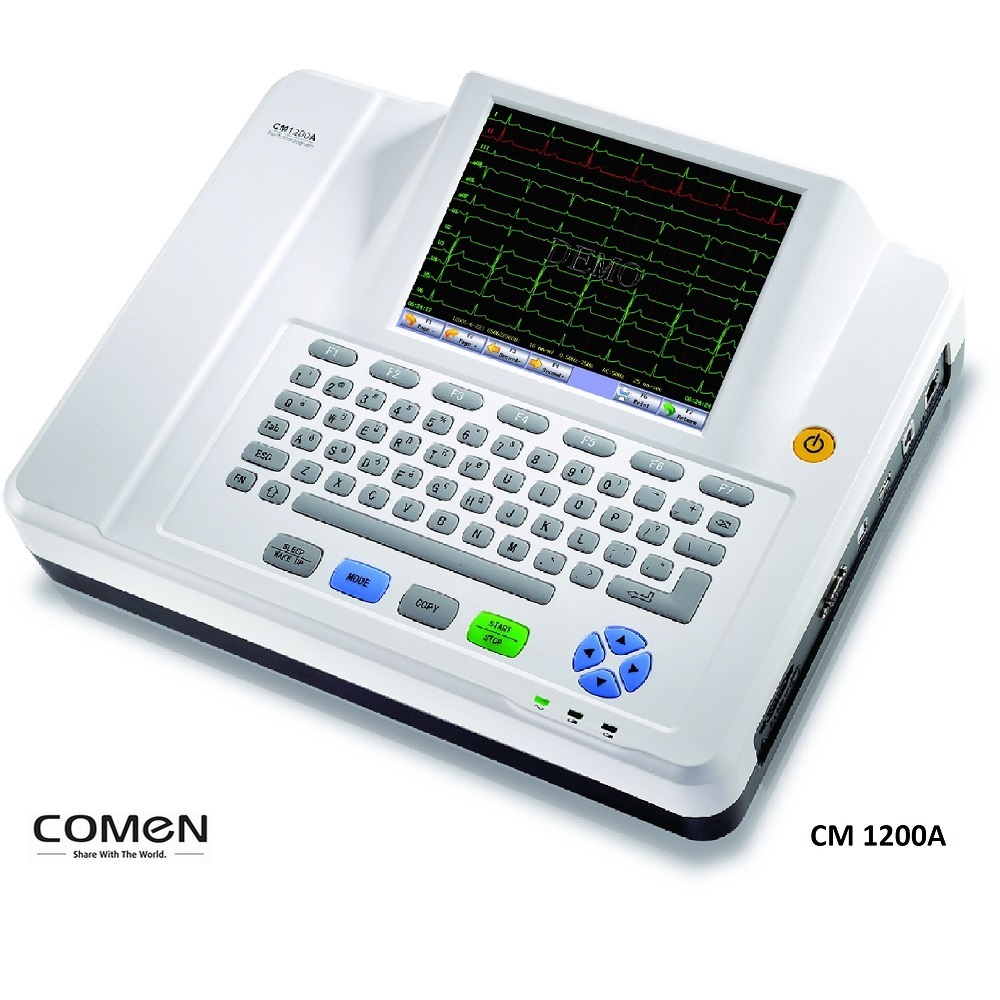 Specifications:
8.4 inch (resolution 800 600) colour TFT display, touch screen
12-lead acquisition and amplification
12 ECG waveforms recording simultaneously; all-digital and full-floating design
1:1 ratio for LCD screen waveforms and output waveform, net-grid on screen for easier observation
120 seconds 12-lead waveforms recordable
Automatic measurement and interpretation
Up to 122 kinds of arrhythmia analysis
Manual/Auto/Rhythm working modes selectable
Big Button Design, Individual Alphanumeric keyboard
10,000 ECGs storage and review
B. Comen CM 300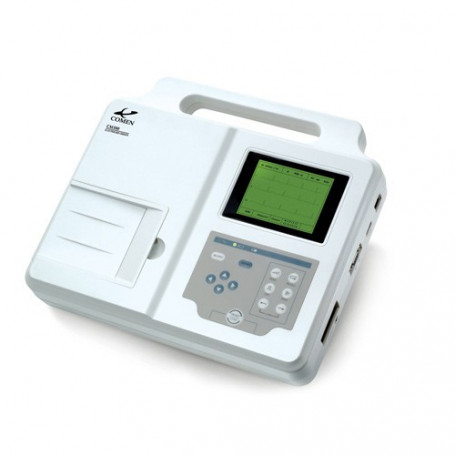 Specifications:
3.5 inch colour LCD screen
12-lead ECG simultaneous acquisition
Built-in thermal printer
Built-in rechargeable Li-ion battery, AC/DC power supply
Anti-defibrillation
Completely digital filter, resist baseline drift. Automatic
baseline adjustment
Large patient data storage: 300 cases, USB for data transfer to PC
Three printing formats (Auto, Manual and Rhythm) selectable
1/2/3 channel ECG waveform and rhythm leads record out
Leads status map display
3. Contec
Contec Medical Systems Co., Ltd. was founded in 1996 with the vision of innovating medical research, manufacturing, and distribution. CONTEC has since developed to distribute over 20 categories of products. We at CONTEC have established an effective, modern scientific manufacturing and management system. We dedicate our research to producing the most effective technology products and through continuous improvement, strive to establish CONTEC as a world-class modern enterprise.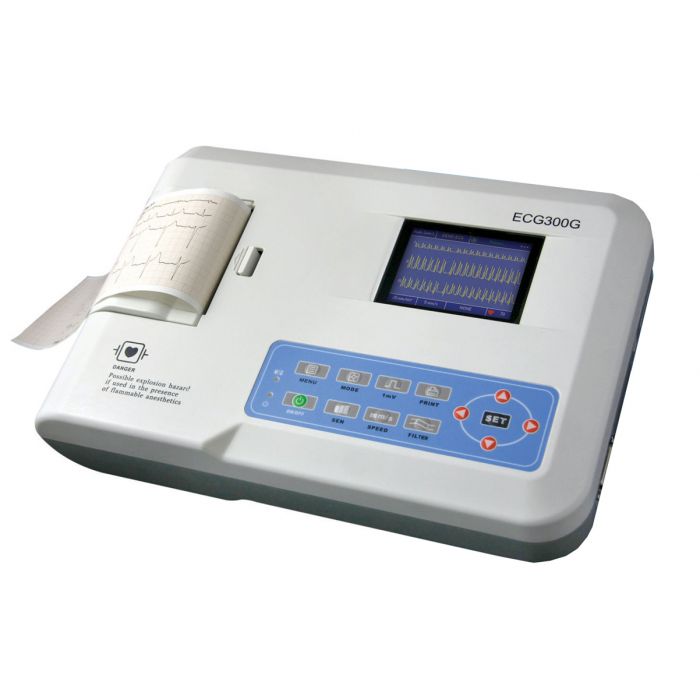 Specifications:
Accurate and clear ECG waveform
Working state display
Economical to save recording paper
3.5''TFT colour display
Simultaneous 12 leads display
Auto analysis and auto Interpretation
Provide more than 10 printing modes
More than 1000 cases in internal memory
Can print 90 minutes and print out 150 pcs ECG continually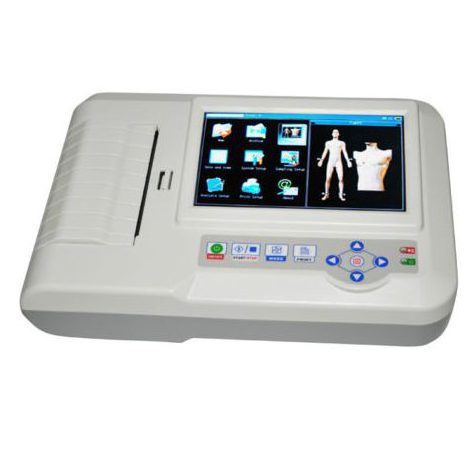 Specifications:
7″ TFT, colour LCD touch screen
12 leads simultaneous display
Digital isolation technology and signal processing solution, digital filter
Patient management, name, age and id, detail analysis report
Built-in lithium rechargeable battery
Thermal printing system provides more than 10 printing modes
Can print 90 minutes and print out 150 ECG continually
ECG-Sync software, USB connection to PC and built-in memory can store more than 1000 cases
Auto-measurement, auto-analysis, and auto-interpretation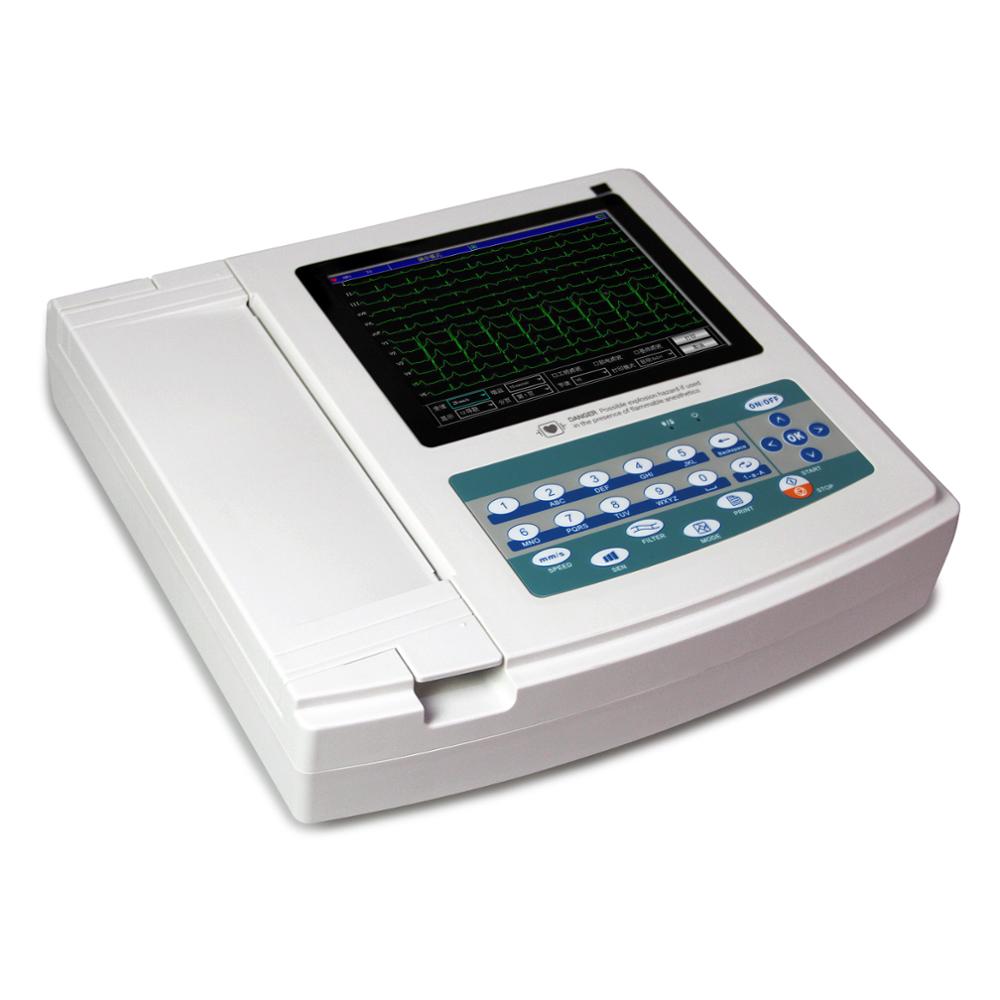 Specifications:
Lead: Standard 12 Leads
Patient Leak Current: <10 µA
Input Independence: ≥50 M
Frequency response: 0.0 Hz~150 Hz(-3dB)
Time constant: Time constant >3.2s
CMRR: >60dB, >100dB (Adding filter)
EMG Interference filter: 35 Hz_ -3d B
Recording Way: Thermal Printing System
Recording Paper Specification: 210 mm(W) x 20 mm(L) high-speed thermal paper
Paper Speed: Auto record: 25mm/s, 50mm/s, error ± 5 %
Rhythm record: 25mm/s, 50mm/s,error ± 5 %
Manual record: 5mm/s, 6.25 mm/s, 10 mm/s, 12.5 mm/s, 25 mm/s, 50mm/s error ± 5 %
Sensitivity Selections: 5, 10, 20, 40 mm/mV, error ± 5 % standard sensitivity is 10 mm/mV 0.2 mm/mv
4. Tricog
Founded in 2014, Tricog is one of the world's largest predictive healthcare analytics firms. Tricog was first started by Dr Charit Bhograj — an Interventional Cardiologist — who realised that the cardiac issues got severe due to a delay in preliminary diagnosis (ECG). Tricog leverages its deep medical and technology expertise, to provide Virtual Cardiology Services to remote clinics.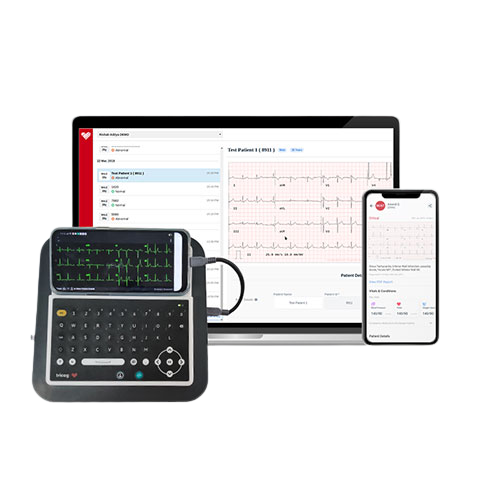 Specifications:
12 Channel ECG
24×7 ECG Diagnosis in 10 minutes: Instant & Accurate ECG Interpretations provided by a team of Doctors in 10 minutes
Upgrade clinic & Increase in patient walk-ins
Identify abnormal & critical cardiac conditions
Easy Access to Reports
Critical Alert: Tricog provides critical case alert by physically calling the medical center in case of critical ECGs
5. GE
With over 100 years of healthcare industry experience, GE Healthcare operates at the centre of an ecosystem working toward precision health, digitising healthcare, helping drive productivity and improve outcomes for patients, providers, health systems and researchers around the world.
A. GE MAC 400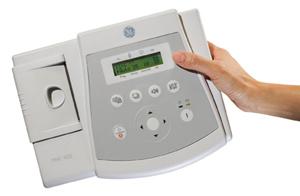 Specifications:
One Touch Operation for acquisition, analysis and printing, minimizes training needs
Alphanumeric Display for easy visualisation of ECG setup information
Ultra Portable ECG device (with battery) of 1300 Gms, for easy transport
Long-lasting Battery
Reliable Printer Design to last for many years of trouble free operation
Multiple ECG Modes (Auto, Manual & Arrhythmia) to allow you to adapt to your specific patient needs
B. GE MAC 600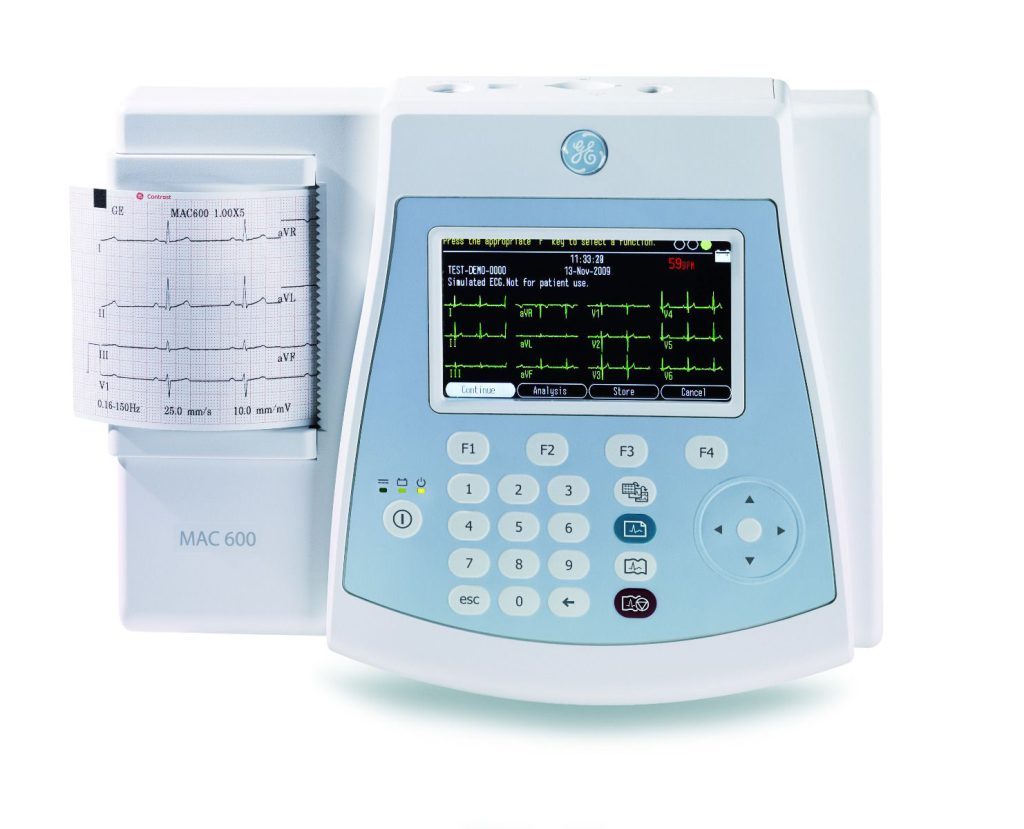 Specifications:
Portable ECG and one-touch operation, weighs just 1.2kg
12-lead, three-channel plus one-channel rhythm
Measurements and 12SL interpretation with reasoning for increased diagnostic confidence
Uses Marquette 12SL technology which is clinically verified, producing more accurate ECG results
Hook-up advisor, to eliminate the paper wastage and avoid repeat ECGs
Battery backup of 250 ECGs
Writer: 80 mm paper size and Z fold
Optional PDF storage in SD Card
Intuitive keypad with easy, one-touch operation
C. GE MAC 800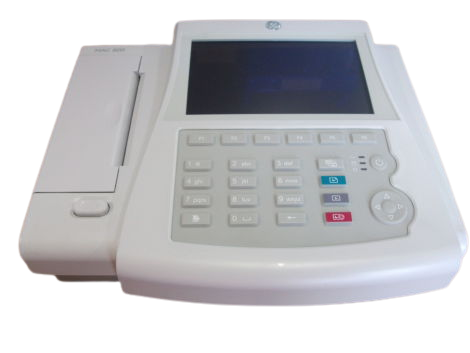 Specifications:
Marquette 12SL ECG Analysis Program for Adults and Pediatrics
ECG analysis frequency 500 and 1000 samples/second (sps)
Acquisition mode Pre-acquisition or post-acquisition, provide 10 seconds of instantaneous ECG acquisition
Display type 7″ colour TFT
Digital sampling rate 1,000 samples/second (sps)
D. GE MAC 1200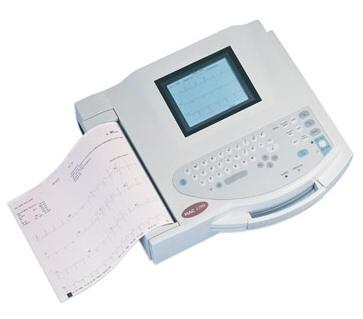 Specifications:
Acquisition: 12 leads – simultaneously
Signal input: Type CF according to IEC
Digital sampling rate: 1000 samples/second/channel
Dynamic range: Differential signals for AC voltage ±, 10mV Superimposed DC voltage (Polarization voltage) ±600mV
Resolution: 5 uV
Frequency response:0.04 – 150 Hz
Common mode rejection:> 140 dB
Input impedance: > 100 M ohms
Leakage current: < 10uA
Pacemaker detection sensitivity: All leads, duration 0.1 – 2.5 ms, amplitude > 5 mV
E. GE MAC 2000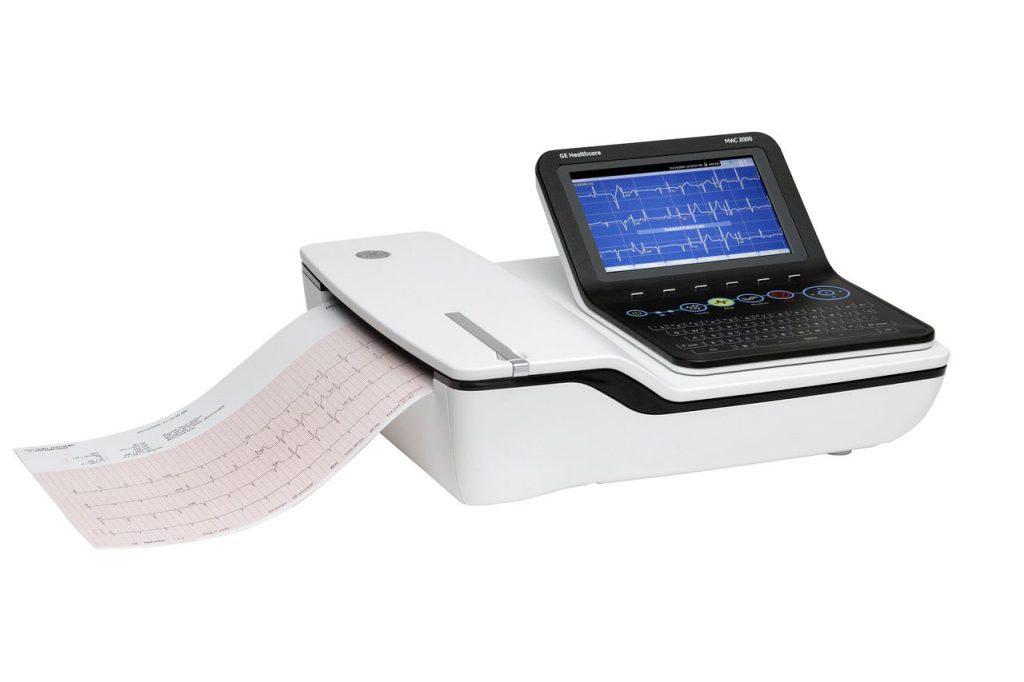 Specifications:
Marquette 12SL ECG Analysis Program
PDF and XML Export Capabilities
Large Easy Read 7 Inch, Colour Display
Up-To 200 ECG's Internal Storage
Rechargeable Battery for Portability
Single or Continuous Monitoring
Large 150 Sheet Capacity
Trimpad Cursor Control
12-Lead Waveforms Display Preview
Arrhythmia Detection
6. Philips
Koninklijke Philips N.V. (lit. 'Royal Philips'), commonly shortened to Philips, is a Dutch multinational conglomerate corporation that was founded in Eindhoven in 1891. Since 1997, it has been mostly headquartered in Amsterdam, though the Benelux headquarters is still in Eindhoven. Philips was formerly one of the largest electronics companies in the world, but is currently focused on the area of health technology, having divested its other divisions.
The company was founded in 1891 by Gerard Philips and his father Frederik, with their first products being light bulbs. It currently employs around 80,000 people across 100 countries. The company gained its royal honorary title (hence the Koninklijke) in 1998 and dropped the "Electronics" in its name in 2013, due to its refocusing from consumer electronics to healthcare technology.
Philips is organised into three main divisions: Personal Health (formerly Philips Consumer Electronics and Philips Domestic Appliances and Personal Care), Connected Care, and Diagnosis & Treatment (formerly Philips Medical Systems). The lighting division was spun off as a separate company, Signify N.V.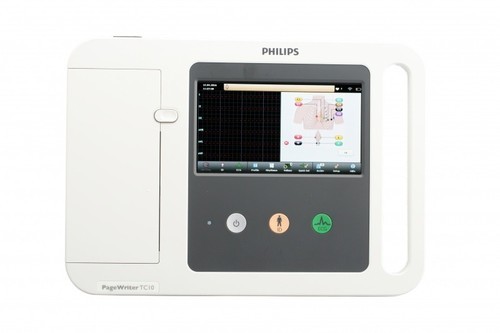 Specifications:
12 Channel ECG Machine with built in printer
Intuitive, with Philips 1-2-3 operation for fast, efficient workflow
6 & 12 – channel printer with wireless or PDF I/F to external printer
DXL Algorithm for 12-lead analysis
Advanced feature at a value price point
Optional network connectivity
Wireless and USB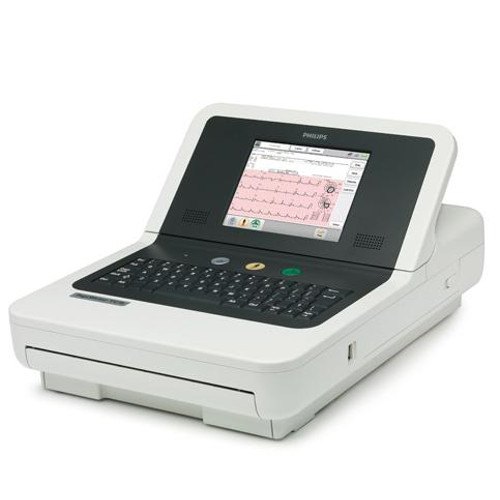 Specifications:
12 Channel ECG Machine
6.5''colour TFT display
Visual guidance to simplify ECGs
Advanced bidirectional network communication for secure connection
Philips DXL 16-Lead ECG Algorithm expands diagnostic capabilities
Reporting aids speed reporting process
Easy 1-2-3 touch operation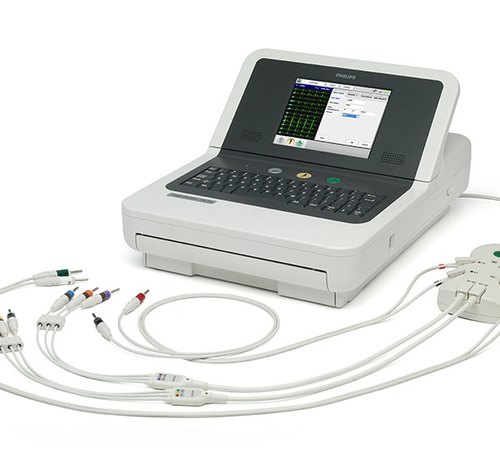 Specifications:
1-2-3 touch screen operation
Colour- coded signal quality indicators
3-in-1 Trident lead wires that reduce tangling
Simultaneous Lead Acquisition (up to 12 leads)
Rhythm Strips (up to 12 selected leads)
Event Marking (6 independent events can be marked for later review and analysis)
Full Disclosure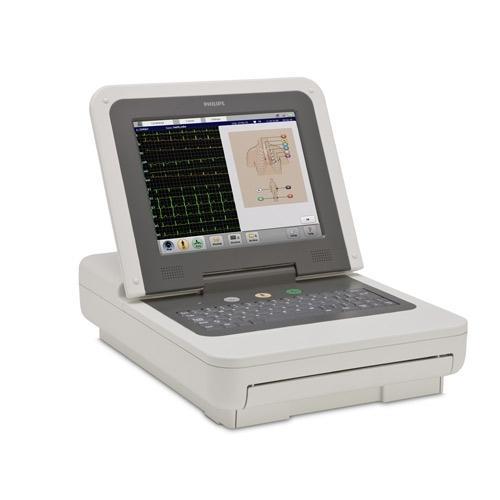 Specifications:
10″ Colour Touch Display
PIM Module
Lan Connectivity
1-2-3 Easy Operation, Connect Leads, Enter ID, Take ECG
Trident Lead Connection, 3 – in- 1 Lead wires
10 Minutes of Full Disclosure with event marking function
Advanced Stemi to optimise Clinical Decisions with Advanced Features
16 Lead Interpretation
ST Maps
Critical Values
Updated Algorithms including Criteria for Women's Heart
2 Year bench Warranty from Manufacturer
Loaner included
SCHILLER is one of the world's leading companies in the development, production and distribution of medical devices, with 30 subsidiaries and a global sales network. Specialised in cardiopulmonary diagnostics, patient monitoring, emergency medicine and diagnostic data management.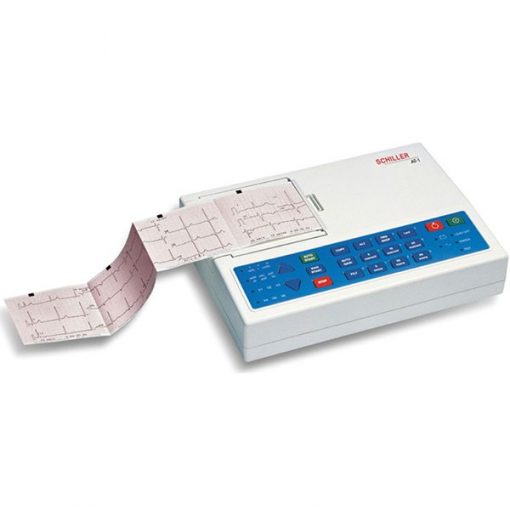 Specifications:
Automatic and manual mode
Multiple report formats, copy function, various recording speeds
Crisp, clear, accurate ECG tracings on 3.5 inch z-fold thermal paper
Perforated reports are ready to file
Fully automatic with easy-touch keyboard and one-button operation
12 Lead ECG
Lightweight (7 lbs.) and portable
Fully Automatic Rechargeable Battery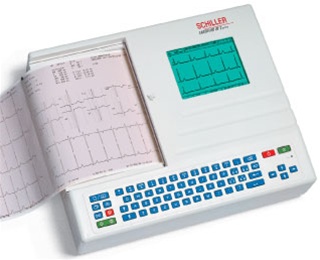 Specifications:
6/12 channel representation of all 12 simultaneously acquired leads
OPTIONAL Pulmonary Function Testing for FV, FVC, SVC, MV and MVV as well as pre and post medication tests
Predicted value tables are stored for free selection
Large, high resolution backlit monitor for easy preview of ECG quality and Spirometry curves
Pacemaker detection
Automatic and manual mode
The built-in printer supplies A4 print-outs in ready-to-file cardex format
Integrated rechargeable battery lasts up to 3 hours of normal use
SSF SCHILLER Smoothing Filter
SBS SCHILLER Baseline Stabiliser
Computerised ECG interpretation program including accurate measurements
Two different instrument functions – but only one operating system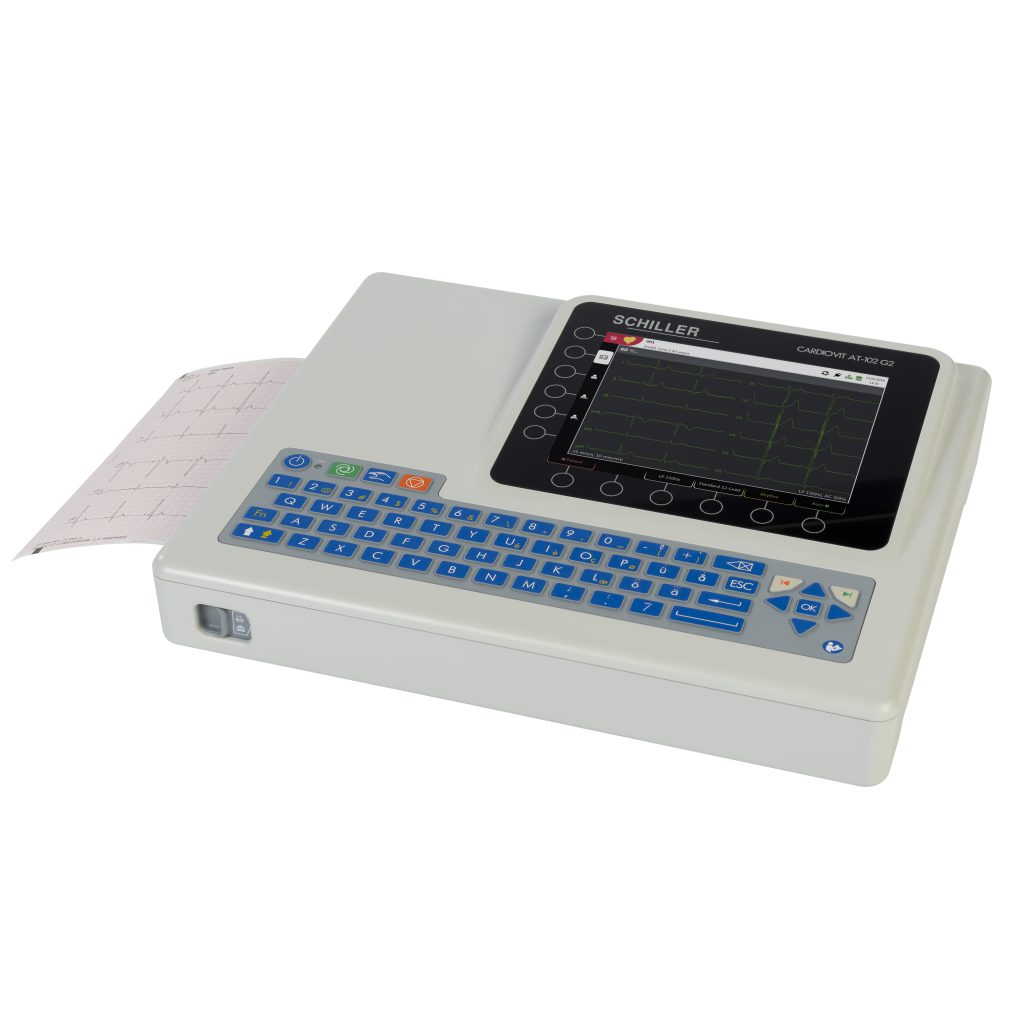 Specifications:
High-resolution 8" colour display
Touch function keys
Easy-to-clean sealed alphanumeric keyboard
More than 8 hours battery capacity with ECG printout
Resting rhythm for up to 10 minutes
Hook-up adviser with colour-coded waveforms and anatomical model
Lead reversal detection
Fast and secure bidirectional Wi-Fi communication via SCHILLER Link and SCHILLER Server
ETM including ETM Sport as well as CCAA (optional)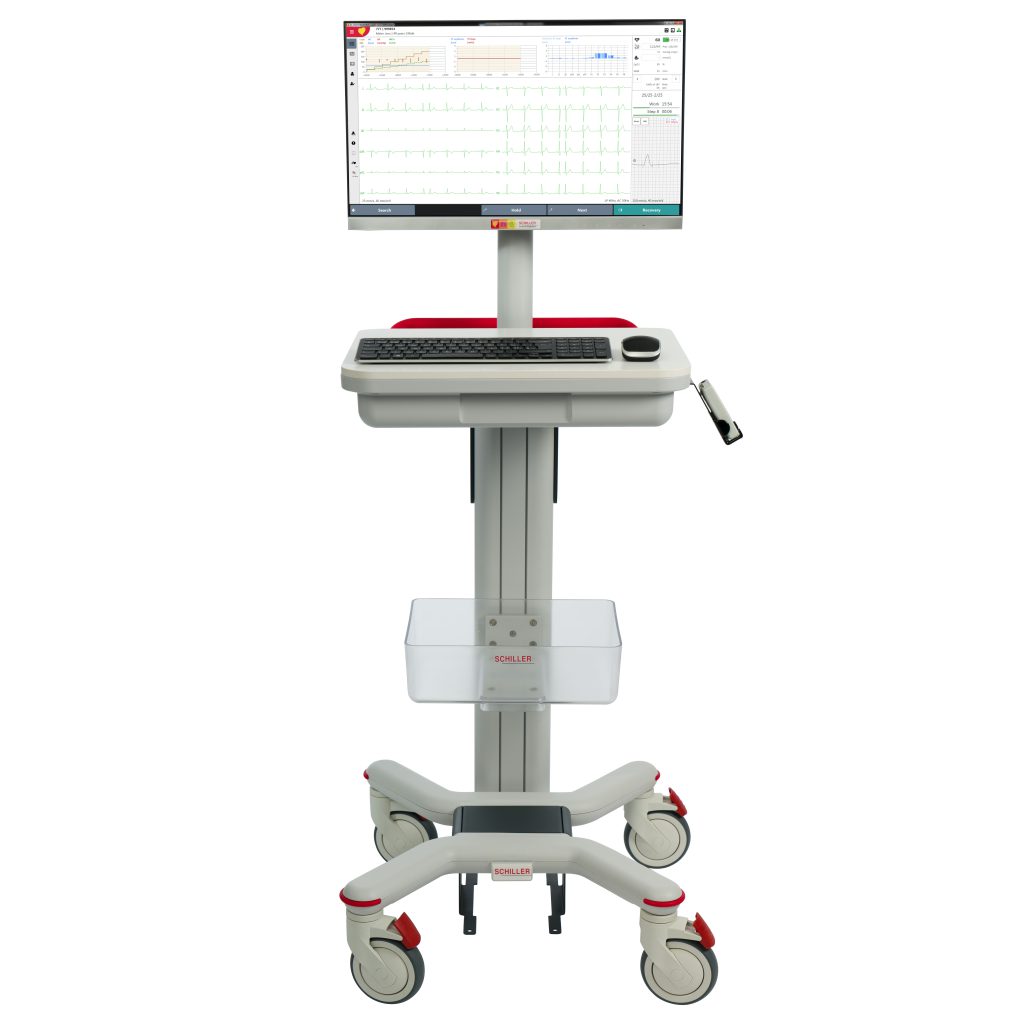 Specifications:
Resting ECG with the SCHILLER ECG analysis program ETM as well as ETM Sport, the automatic interpretation for athletes
Resting rhythm recording for up to 20 minutes, with optional arrhythmia detection
ECG Framer: 10-second resting ECG from resting rhythm
Exercise ECG with optional arrhythmia detection
Vector ECG, optional
Spirometry, based on the ultrasound technology of the SpiroScout SP plus, optional
Integrated workstation for data review from all SCHILLER devices connected to the SCHILLER Server
Bi-directional connectivity (including worklist and PDQ) to EMR, HIS and PACS systems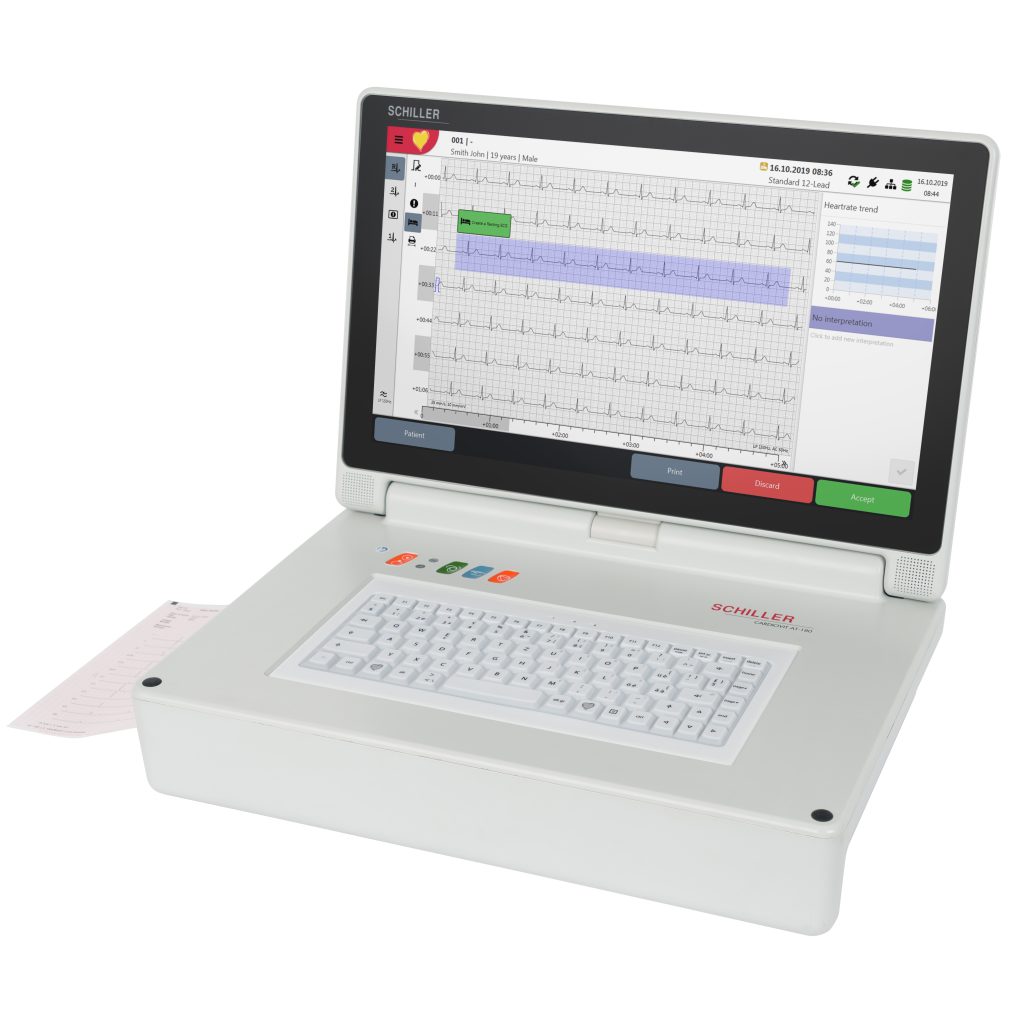 Specifications:
18.5″ high-resolution multi-touch screen for easy ECG review
Full-size keyboard with a durable, exchangeable cover keeping dust, dirt and liquids out, making it highly hygienic
Resting rhythm for up to 20 minutes
ECG Framer: Create a 10-seconds resting ECG from a resting rhythm recording
Hook-up adviser with colour-coded waveforms and anatomical model
Lead reversal detection
Fast and secure bidirectional Wi-Fi communication, PDQ
8. Nihon Kohden
Nihon Kohden Corporation is a Tokyo-based leading manufacturer, developer and distributor of medical electronic equipment, which include EEGs, EMG measuring systems, ECGs, patient monitors and clinical information systems, with subsidiaries in the U.S., Europe and Asia.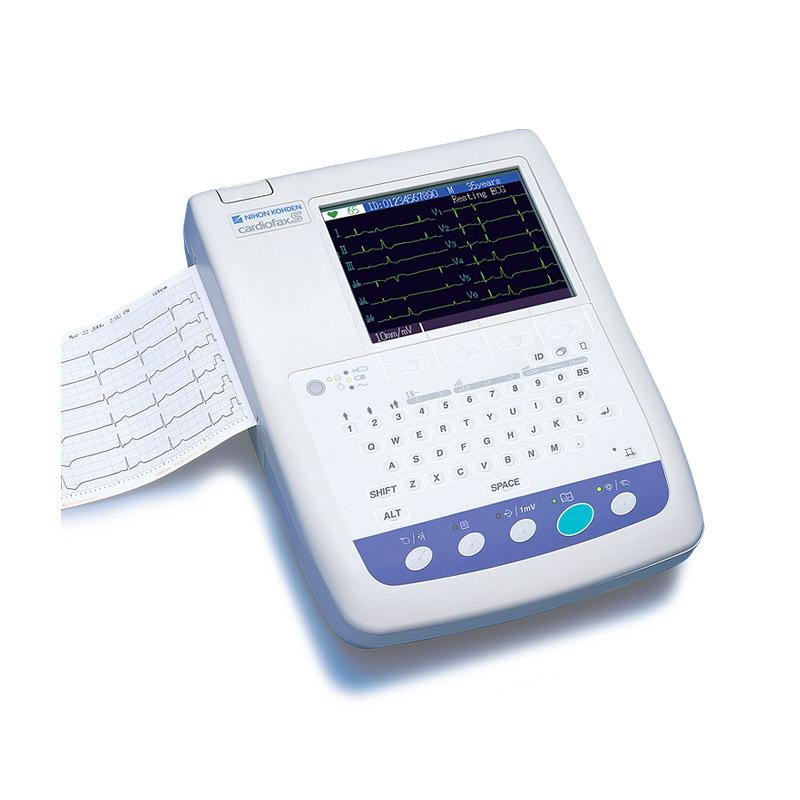 Specifications:
6-channel recording
Meets IEC 60601-2-51 international standard for digital electrocardiographs specifying accuracy and digital filter performance
Vivid colour LCD screen
Large memory capacity: 40 ECG files in internal memory, 3000 ECG files on an SD memory card
Data transfer to PC by SD memory or LAN
ECG Data can be reviewed and managed on a Windows® PC with optional ECG Viewer software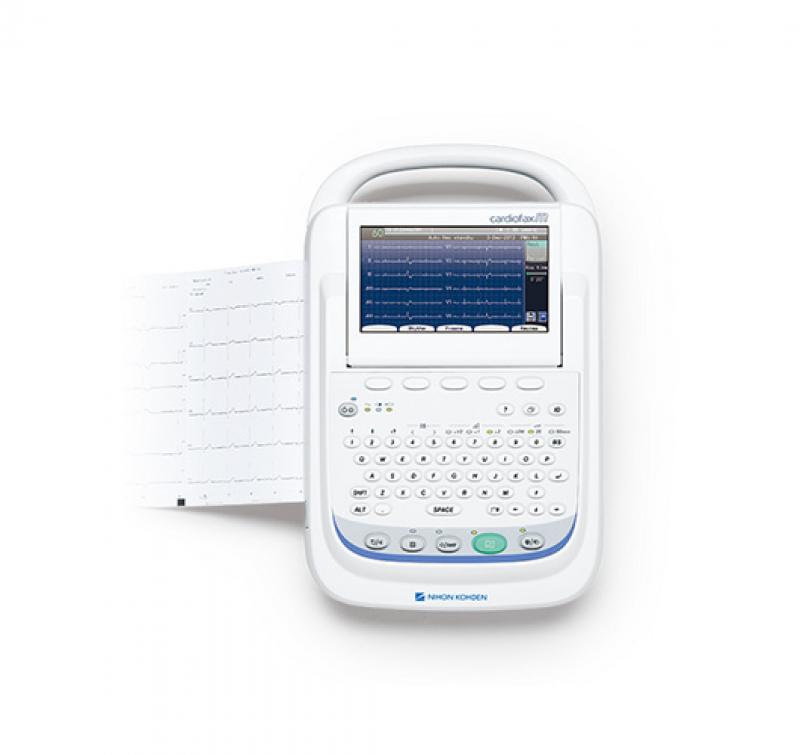 Specifications:
7-inch colour LCD displays simultaneous 12-lead ECG waveforms and data more easily
Adjustable display improves visibility and provides smooth operation
Meets IEC 60601-2-51 international standard for digital electrocardiographs specifying accuracy and digital filter performance
ECG analysis by ECAPS 12C interpretation program
ECG data can be transferred to a PC through wireless or wired LAN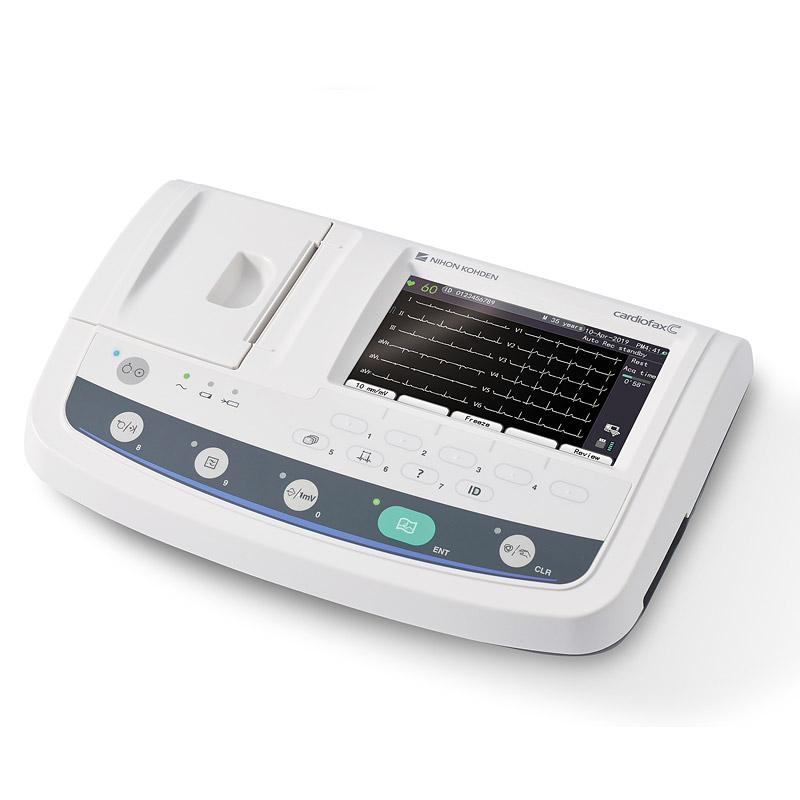 Specifications:
12-lead ECG device
3 recording channels
Large TFT colour screen, 800×480 dpi
Compact and lightweight
Internal memory: 800 ECG
USB flash 3000 ECG
Integrated printer
Paper speed : 25, 50 mm / s
Registration paper width: 63 mm
cable hanger, KH-100D – USB flash drive DTSE9G2 / 16 GB or equivalent
Wireless LAN module, QI-330D
Battery life: 180 minutes, SB- 301 DC
Dimensions: 260x75x172 mm
Weight: 1.1 kg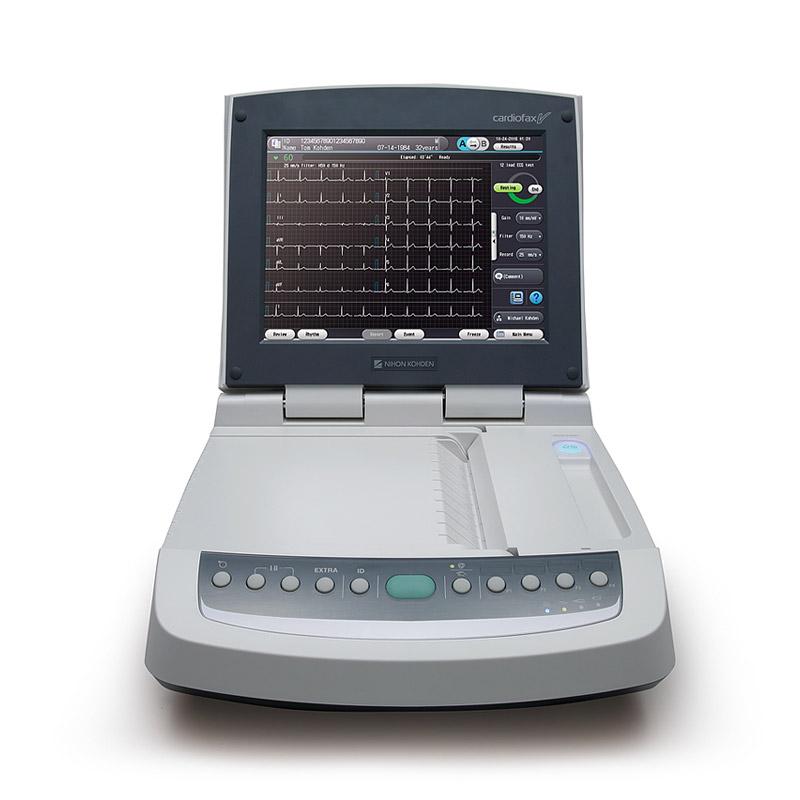 Specifications:
High visibility
Easy operation
Efficient workflow
Reliable diagnosis
Electronic recording
Easy data transfer
Optional stress testing functionality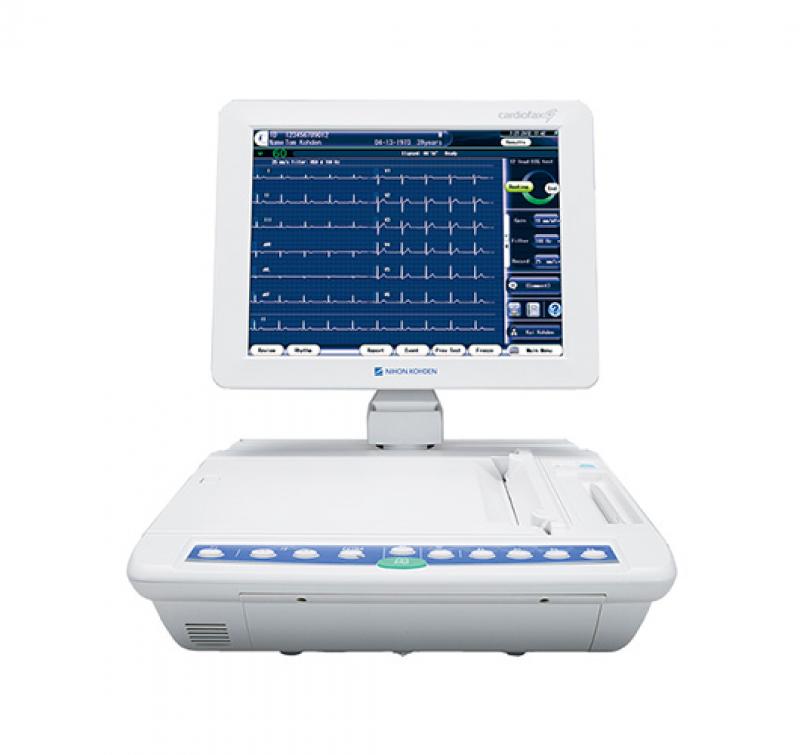 Specifications:
12-channel ECG unit with 15 inch colour TFT touchscreen display
3, 4, 6, 7, 12, 15, 18 channel ECG recording in real time
ECG measurement program
Interpretation program
Mains or battery operation
Manual and automatic recording
5 min. 12-channel rhythm analysis
USB ports
Network connection
SD card inserts
9. Mindray
Shenzhen Mindray Bio-Medical Electronics Co Ltd is a developer, manufacturer, and supplier of medical devices. The company is focused on the medical industry in the fields of Patient Monitoring & Life Support, InVitro Diagnostics, and Medical Imaging.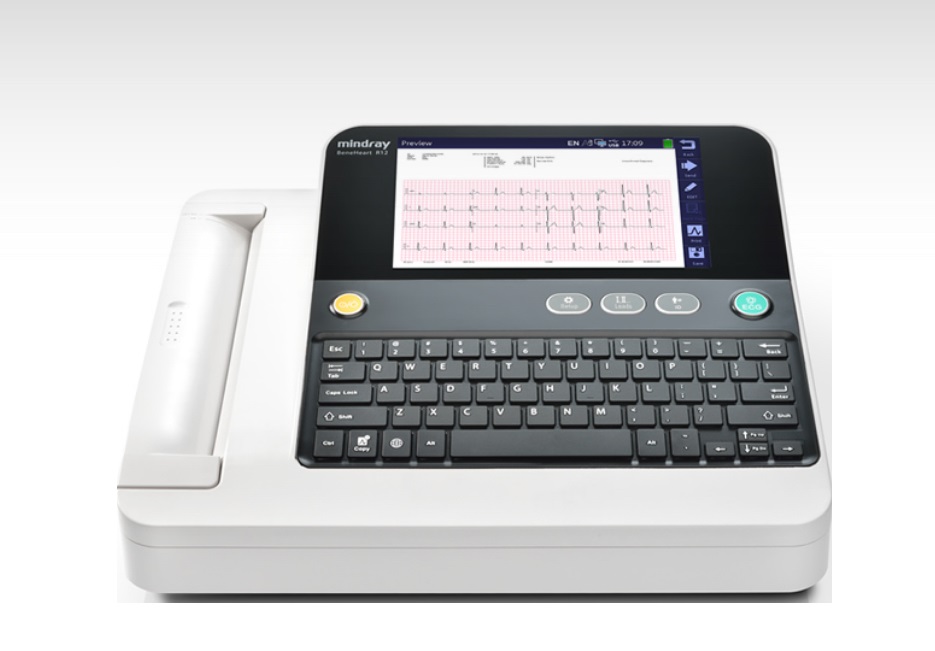 Specifications:
12-lead resting ECG machine
8″ Colour TFT backlit LCD display
With integrated thermal printer (prints in A4 format)
PDF export via USB as 12-lead printout
Internal memory for approx. 800 ECGs
ECGs can be saved on a USB stick and transferred to a PC
With lithium-ion battery (3.5 hours battery life or approx. 400 ECG printouts on one battery charge)
Includes measurement and interpretation function
User-friendly operator interface
Standard keyboard for entering patient data
Patient data can be called up from the working list
Special cable design prevents the cable from wrapping and twisting
Full print preview directly on the display
With ECG analysis (world-renowned, Glasgow 12-lead analysis system)
Automatic diagnosis with V4R electrode placing (ideal for paediatrics)
Automated new analysis after changing patient demographics, enables quick production of ECG printouts (patient information can also be entered later)
Digital pacemaker recognition
Very quick prep time (7 second start up time)
Paperless workflow possible
B. Beneheart R3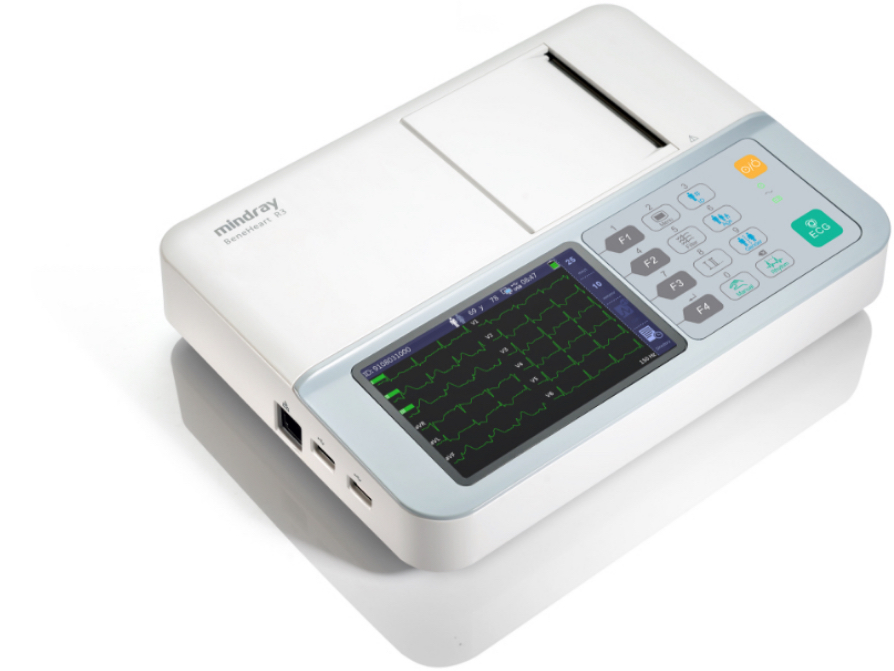 Specifications:
Li-ion battery with 6 hours of continuous operation
Weighs only 1.2 kg
5inch colour display
ECG paper unfolds into the writing pad to make documentation quick and easy
Saves up to 800 ECG Reports on the internal memory
Reports can be exported in pdf form to a USB device or directly over a network connection
Automatic pacemaker detection
Connect to an external printer to capture reports on full A4
10. Skanray
Skanray ECG portfolio stretches across a suite of solutions that satisfies the varied needs of physicians and cardiologists. The solution portfolio includes a telemedicine ready PC based ECG system (Cardiskan Mini) which can be deployed in remote clinics and hospitals and tele-cardiology can be effectively practiced. The ECG system also comes with an interpretation algorithm which instantly analyses the waveforms and populates the differential diagnosis based on the ECG.
A. Cardiskan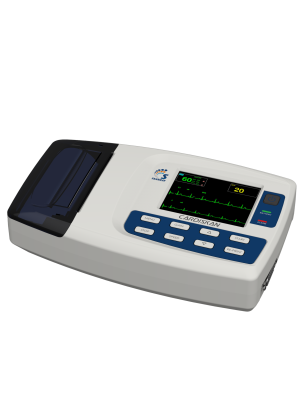 Specifications:
Simultaneous 12 lead ECG
ECG acquisition at 1000 samples/sec
3.5" TFT Display with resistive touchscreen
Intuitive hotkeys for quick operation
3 Channel thermal printer
Built-in ECG measurements and interpretation
Visual alarm indicator
Specifications:
12 Lead PC based ECG Machine
Optional ECG analysis package
PDF Print, Patient database Management & A4 Print
Compact & highly portable
C. Orion Plus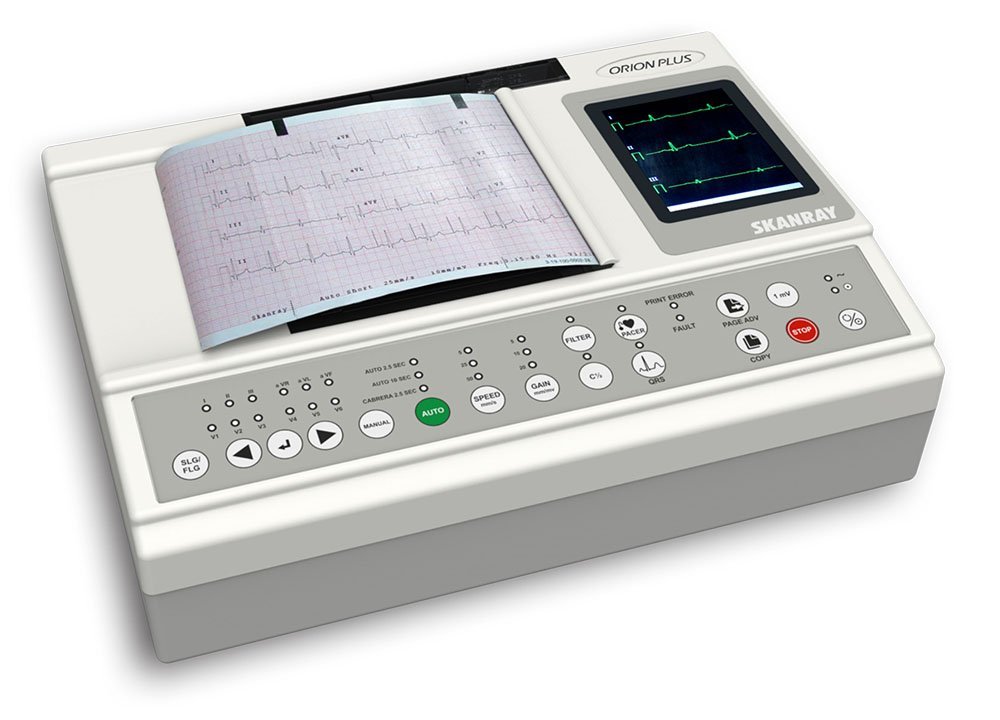 Specifications:
3 channel ecg with colour display
3+R print on a wide 112mm paper
1000 samples/ second/ channel for precise ecg display
Automatic and manual recording modes
Quantitative measurements
Where to buy an ECG Machine in India at the best price? Who is the ECG Machine supplier in India?
If you are looking for a reliable supplier of ECG Machine in India who you can trust throughout your buying process for ECG machine and ECG machine accessories of all ECG Machine manufacturers and brands in India, look no other way and contact VMEDO Store now. We are currently serving across all cities of India and mainly in Karnataka around the below listed cities.
Bengaluru
Delhi
Mumbai
Pune
Chennai
Hyderabad
Tumkur
Shivamogga (Shimoga)
Davangere
Mysuru (Mysore)
Mandya
Madikeri
Chamarajanagar
Hubballi
Gadag
Haveri
Uttara Kannada
Contact us at +917406000610 or mail us at store@vmedo.com
VMEDO is an Emergency Healthcare Ecosystem where we are working towards saving more lives by assisting people to book Ambulances, medical equipment, and healthcare training programs on one single platform. We pride ourselves in being one of India's largest Ambulance networks and have helped over 50,000 people in emergencies. We have empowered more than 10,000 Professionals with First Aid Skills. Through VMEDO Store, we have supplied over 50,000+ medical equipment and surgical supplies across India.